Discussion
BBTN 500: Looking out for No. 1
Updated:
March 28, 2013, 5:19 PM ET
ESPN.com
1. Who do you think should be No. 1?
David Schoenfield (@dschoenfield), SweetSpot: I gave eight players a perfect score of 100, but I believe Ryan Braun should be No. 1, for a few reasons: Pitchers are too much of an injury risk to be considered the best player in baseball, Braun's advantage on defense and baserunning barely pushes him past Miguel Cabrera, and Joey Votto's numbers. You can even argue the future merits of Mike Trout. … Well, I'll leave the possibility ...

Read full story
TOP 500 MLB PLAYERS OF 2013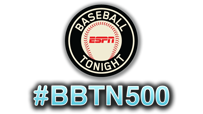 TEAM-BY-TEAM RANKINGS
Check out where players ranked on each team:
LOOKING BACK
ESPN 500: 2012
Albert Pujols left St. Louis for Anaheim and was voted the game's No. 1 player.