Discussion
Chat: Top 10 of BBTN 500
Come discuss the BBTN 500 as we unveil the top of the list
Updated:
March 28, 2013, 6:41 PM ET
By
ESPN.com
At 10 p.m. on "Baseball Tonight" we are unveiling the top 10 of the BBTN 500. We'll have David Schoenfield, Jerry Crasnick and Dan Szymborski here chatting along with the reveal.
Read full story
TOP 500 MLB PLAYERS OF 2013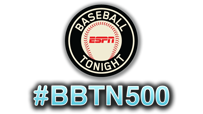 TEAM-BY-TEAM RANKINGS
Check out where players ranked on each team:
LOOKING BACK
ESPN 500: 2012
Albert Pujols left St. Louis for Anaheim and was voted the game's No. 1 player.