Discussion
The World Series winner will be …
But before we declare a champion, a breakdown of the top eight contenders
Originally Published:
March 30, 2013
By
Jayson Stark
| ESPN.com
My friends around America have been checking in all week. Obviously, they knew this column was coming.
"Which poor team are you going to curse this year by picking it to win it all?" they ask.
Well, "hahahahaha" should be my correct response, because obviously they don't recall the sage nature of last season's predictions columns. So let me refresh their memories.
Preseason prediction: A Tigers-Cardinals World Series (came within a game of happening). October prediction: ...

Read full story
2013 SEASON PREVIEW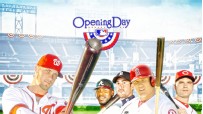 SCHEDULE
Monday, March 25

Bowden: Harper vs. Trout -- who's better?
Schilling: Sizing up Trout and Harper

Tuesday, March 26

Szymborski: Projecting AL standings
Rising Stars profiles: Tyler Skaggs (Crasnick); Jarrod Parker (Kahrl)

Wednesday, March 27

Division capsules: AL Central; NL Central
Szymborski: Projecting NL standings
BBTN: AL Central NL Central
Rising Stars profiles: Salvador Perez and Trevor Rosenthal (Crasnick)
Bowden: Six who impressed this spring

Thursday, March 28

Rising Stars profiles: Andrelton Simmons (Stark); Manny Machado (Kurkjian)
Spratt: Defense could hurt Blue Jays

Friday, March 29

Law: Predicting division winners, awards
Photo gallery: All-MLB preseason team
Szymborski: Best player prop bets

Saturday, March 30

Photo gallery: Milestones to watch in 2013
Bowden: 10 bold predictions for 2013