Discussion
The 'real' Sergio Romo
The Giants closer wants you to know who he really is -- if he can figure it out.
Originally Published:
April 5, 2013
By
Tim Keown
| ESPN The Magazine
THE CATCHER keeps jumping into the closer's arms. The television screen in a house in Mesa, Ariz., plays and replays the same scene: The last pitch of the World Series is thrown, the closer's arms go skyward, the catcher sprints out from behind the plate.
The closer's arms pump in front of his chest in a wild, exuberant dance -- a creation best described as Gangnam-meets-butter-churn -- and the image on the screen freezes.
Two people ...

Read full story
ESPN The Magazine: April 15, 2013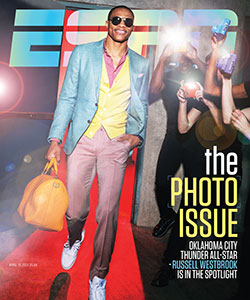 PHOTO ISSUE FEATURES

COLUMNS

MORE FROM THE PHOTO ISSUE