Discussion
Davey Johnson up for 'the challenge'
Updated:
April 1, 2013, 4:38 PM ET
Associated Press
WASHINGTON -- Davey Johnson is ready to soak it all in during what is supposed to be his final season as manager of the Washington Nationals, saying he'll throw batting practice or even take pregame grounders occasionally.
What he isn't prepared to do is say for certain that he will retire after 2013.
Before Washington's game against the Miami Marlins on Monday, the 70-year-old Johnson was asked whether it would be his final Opening Day in uniform.
"It's my last one ...

Read full story
2013 SEASON PREVIEW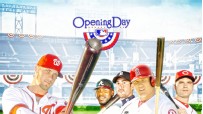 SCHEDULE
Monday, March 25

Bowden: Harper vs. Trout -- who's better?
Schilling: Sizing up Trout and Harper

Tuesday, March 26

Szymborski: Projecting AL standings
Rising Stars profiles: Tyler Skaggs (Crasnick); Jarrod Parker (Kahrl)

Wednesday, March 27

Division capsules: AL Central; NL Central
Szymborski: Projecting NL standings
BBTN: AL Central NL Central
Rising Stars profiles: Salvador Perez and Trevor Rosenthal (Crasnick)
Bowden: Six who impressed this spring

Thursday, March 28

Rising Stars profiles: Andrelton Simmons (Stark); Manny Machado (Kurkjian)
Spratt: Defense could hurt Blue Jays

Friday, March 29

Law: Predicting division winners, awards
Photo gallery: All-MLB preseason team
Szymborski: Best player prop bets

Saturday, March 30

Photo gallery: Milestones to watch in 2013
Bowden: 10 bold predictions for 2013