Discussion
Understanding A-Rod's infractions
Excuse him? No. But before we condemn him, let's remember a few things.
Originally Published:
July 31, 2013
By
Jim Caple
| ESPN.com
Way back in 2001 when Alex Rodriguez was in his first season with the Texas Rangers, I asked him which of these superpowers he would most want: the strength of 100 men, the ability to fly or the ability to turn invisible.
"None of those," he replied. "I would want to be the wisest man in the world."
Well, since then -- if you believe in the evidence that Major League Baseball apparently has about his alleged use of performance-enhancing drugs -- A-Rod was striving for ...

Read full story
BIOGENESIS SUSPENSIONS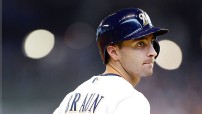 Ryan Braun released his statement apologizing for and admitting to using PEDs.