Discussion
Florida mulls Biogenesis trickle down
Updated:
August 6, 2013, 3:23 PM ET
Associated Press
MIAMI -- The Florida High School Athletic Association will review its policies on performance-enhancing drugs following an allegation that its athletes were among the customers of the shuttered clinic at the center of the baseball scandal.
The FHSAA said it has no proof to substantiate the claims of former Biogenesis employee Porter Fischer, who has told The Associated Press and other media outlets in recent days that he saw the clinic's operator give PEDs to high school players.
But, ...

Read full story
BIOGENESIS SUSPENSIONS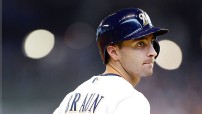 Ryan Braun released his statement apologizing for and admitting to using PEDs.