Discussion
Why the heat is hotter in MLB
Do other sports have PED problems? Or do they obey the Off Base rules better?
Originally Published:
August 7, 2013
By
Jim Caple
| ESPN.com
The Biogenesis penalties have been handed down, and baseball has another public black eye, darker and uglier than any Sylvester Stallone collected in his six "Rocky" movies.
Once again, steroid use is the preferred punch-line for baseball in the media. The game right now is probably cleaner than it's been in the past 15 years, but the pundits are back to making easy wisecracks about prolific doping in baseball. The Biogenesis affair makes it clear that baseball is actively trying ...

Read full story
BIOGENESIS SUSPENSIONS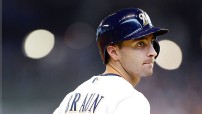 Ryan Braun released his statement apologizing for and admitting to using PEDs.