Discussion
Pete Rose: 'Don't do like I did'
Updated:
August 7, 2013, 1:24 PM ET
ESPN.com news services
Serving his own ban for life, Pete Rose has some advice for Alex Rodriguez and everyone else suspended for their roles in the Biogenesis scandal: come clean.
"We have to get these people to understand that if you make mistakes, people will forgive you if you come forward," Rose told USA Today Sports. "Don't do like I did. Don't do like [Ryan] Braun did. Don't do like A-Rod did."
"I wish I had come forward a long time ago. Some guys came forward, like [Jason] Giambi, like ...

Read full story
BIOGENESIS SUSPENSIONS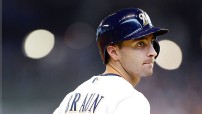 Ryan Braun released his statement apologizing for and admitting to using PEDs.