Discussion
Electronic trail helped MLB with bans
Updated:
August 7, 2013, 12:01 PM ET
Associated Press
NEW YORK -- Facebook friends. Transcripts of BlackBerry instant messages. Records of texts.
Major League Baseball investigators used an arsenal of high-tech tools to collect the evidence that persuaded a dozen players to accept 50-game suspensions this week for their ties to the Biogenesis clinic.
When it came time to meet with the players' association, the investigators flashed some of their documentary proof. While there was not enough time for the union to thoroughly examine what ...

Read full story
BIOGENESIS SUSPENSIONS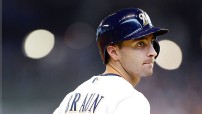 Ryan Braun released his statement apologizing for and admitting to using PEDs.