Discussion
Under-the-radar standouts
Francisco Liriano among players who've delivered after signing on the cheap
After Pittsburgh general manager Neal Huntington refrained from making a deal at the July 31 deadline, he responded with the money quote of the trade season. "We were willing to do something stupid," Huntington told reporters. "We just weren't willing to do something insane."
Loopiness is all relative in a pennant race. With his team 26 games over .500 and leading the National League Central, Huntington can dress up like the Pirate Parrot and wave the Jolly Roger while directing traffic ...

Read full story
MLB ON ESPN.COM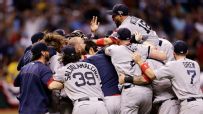 The Red Sox rebounded from a tough loss to clinch a spot in the ALCS.