Discussion
Who's cheating who?
Despite Biogenesis, we still know very little about how PEDs impact performance
Originally Published:
August 29, 2013
By
Peter Keating
| ESPN The Magazine
SINCE MLB DROPPED the hammer on 13 alleged Biogenesis clients on Aug. 5, I've read that Alex Rodriguez's entire career was a hoax. I've heard talk-radio hosts claim that a clean player could have added 100 home runs and 400 RBIs to his career totals by using steroids during the 1990s. I've seen major leaguers blame other major leaguers for beating them out of jobs by juicing. And I always have the same question: How do you know?
Fifteen years after Mark McGwire and ...

Read full story
ESPN The Magazine: September 2, 2013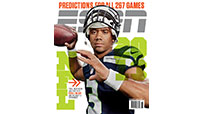 The Mag on Twitter | Facebook | iPad
FEATURES
TEAM RANKINGS
COLUMNS