Discussion
Do managers matter?
When it comes to evaluating managers, there's little sound statistical evidence
Originally Published:
September 5, 2013
By
Peter Keating
| ESPN The Magazine
UNTIL JUNE 22 of this year, the nation's sports writers tripped all over themselves to excuse Don Mattingly's managerial record -- a mediocre 198-197 to that date. "Mattingly has proven to be a victim of circumstance" was one typical take. Then LA ripped off 42 wins in 50 games, and the same pundits started talking up Mattingly for NL Manager of the Year. This kind of thing drives me bonkers. If Mattingly wasn't to blame when the Dodgers failed to meet expectations, why does he deserve so much credit for vaulting them into first place? It is recency bias and a man crush, not sound statistical judgment.
To continue reading this article you must be an Insider
Insider
ESPN The Magazine: September 16, 2013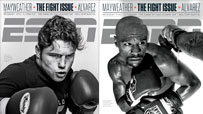 The Mag on Twitter | Facebook | iPad
FEATURES
COLUMNS
MORE