Discussion
Investigation launched into Biogenesis
Updated:
September 30, 2013, 7:24 PM ET
Associated Press
MIAMI -- State authorities in Florida have launched a criminal investigation into the now-closed clinic at the center of Major League Baseball's latest performance-enhancing drug scandal, a spokesman for Miami-Dade County's chief prosecutor said Monday.
"A subpoena was issued for documents and we are looking into several areas of state interest," said Ed Griffith, spokesman for State Attorney Katherine Fernandez Rundle.
Griffith would not go into further specifics but said the state ...

Read full story
BIOGENESIS SUSPENSIONS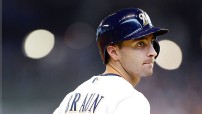 Ryan Braun released his statement apologizing for and admitting to using PEDs.