Discussion
Joe Torre, Tony La Russa lead ballot
Updated:
November 4, 2013, 2:01 PM ET
Associated Press
COOPERSTOWN, N.Y. -- Retired managers Joe Torre, Tony La Russa and Bobby Cox will join holdovers George Steinbrenner and Marvin Miller on the Hall of Fame expansion era committee ballot next month.
Dave Concepcion, Steve Garvey, Tommy John, Billy Martin and Ted Simmons also are held over from the 2010 ballot, while Dave Parker and Dan Quisenberry have been added. Vida Blue, Ron Guidry, Al Oliver and Rusty Staub have been dropped.
The committee will gather at the winter meetings in ...

Read full story
MLB ON ESPN.COM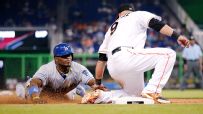 Is Yasiel Puig among the worst baserunners of all time?