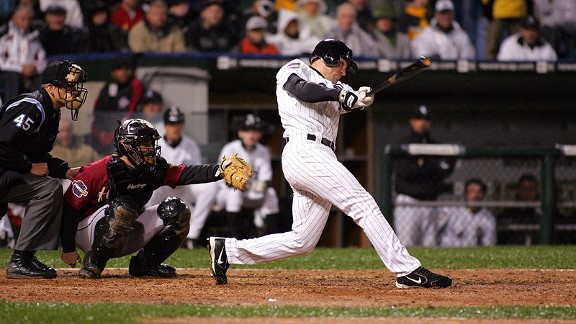 Ron Vesely/MLB Photos/Getty Images
Chicago (AL) 4, Houston (NL) 0
Game Scores:
CHW 5, HOU 3 @ CHW
CHW 7, HOU 6 @ CHW
CHW 7, HOU 5 @ HOU
CHW 1, HOU 0 @ HOU
MVP:
Jermaine Dye
Why the White Sox won: The pitching staff that was dominant in the first two playoff series posted a 2.63 ERA in the World Series.
Why the Astros lost: The bullpen struggled and was charged with all four losses -- closer Brad Lidge had two.
Memorable moment: Geoff Blum's homer in the 14th inning of Game 3, in which 482 pitches were thrown by 17 pitchers.
Key stat: 1. The number of at-bats by Blum in the Series. Also the number of homers and hits by Blum.