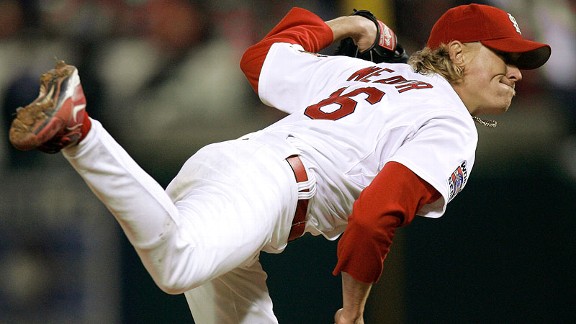 AP Photo/Charles Krupa
St. Louis (NL) 4, Detroit (AL) 1
Game Scores:
STL 7, DET 2 @ DET
DET 3, STL 1 @ DET
STL 5, DET 0 @ STL
STL 5, DET 4 @ STL
STL 4, DET 2 @ STL
MVP:
David Eckstein
Why the Cardinals won: The little big man, David Eckstein, hit .364 and was the Series MVP.
Why the Tigers lost: The Tigers never got their offense going. Detroit hit .199 in the Series and struck out 37 times against eight walks.
Memorable moment: Kenny Rogers' pine-tar-on-the-hat controversy in Game 2.
Key stat: .200. Albert Pujols' batting average in the Series. No matter, St. Louis still won.