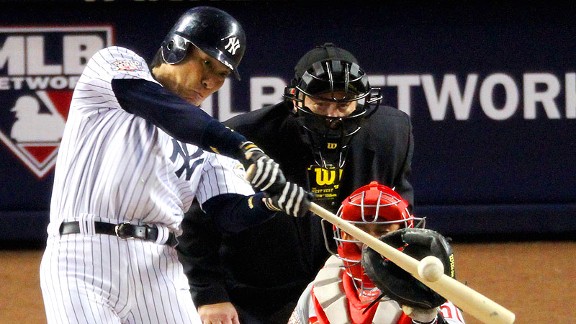 Jim McIsaac/Getty Images
New York (AL) 4, Philadelphia (NL) 2
Game Scores:
PHI 6, NYY 1 @ NYY
NYY 3, PHI 1 @ NYY
NYY 8, PHI 5 @ PHI
NYY 7, PHI 4 @ PHI
PHI 8, NYY 6 @ PHI
NYY 7, PHI 3 @ NYY
MVP:
Hideki Matsui
Why the Yankees won: Hideki Matsui and Derek Jeter could not be stopped. Matsui, the MVP, hit .615 and Jeter batted .407.
Why the Phillies lost: Aside from two solid starts by Cliff Lee, the Phillies' pitchers struggled to a 5.37 ERA.
Memorable moment: Alex Rodriguez's Game 3 homer, his first World Series hit, was reviewed. It was the first-ever postseason replay review.
Key stat: 6. Years between World Series Game 6s. No Series had gone that far since 2003.