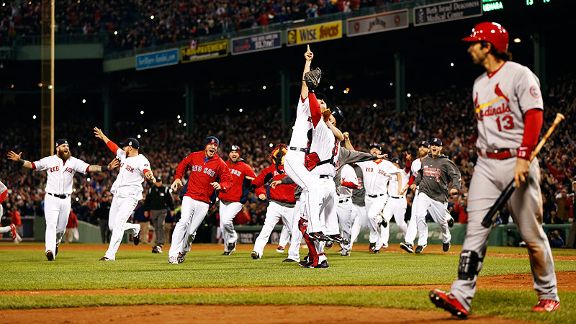 Greg M. Cooper-USA TODAY Sports
Boston (AL) 4, St. Louis (NL) 2
Game Scores:
BOS 8, STL 1 @ BOS
STL 4, BOS 2 @ BOS
STL 5, BOS 4 @ STL
BOS 4, STL 2 @ STL
BOS 3, STL 1 @ STL
BOS 6, STL 1 @ BOS
MVP:
David Ortiz
Why the Red Sox won: David Ortiz turned in one of the greatest offensive performances in Series history, and Jon Lester dominated in his two starts.
Why the Cardinals lost: The St. Louis offense failed to produce over the final three games, scoring only four runs and going 3-for-21 with runners in scoring position.
Memorable moment: In one of the most unusual endings in Series history, the Cardinals won Game 3 on an obstruction call, when Allen Craig got tangled up with Will Middlebrooks at third base.
Key stat: .760. Ortiz's on-base percentage, reaching base in 19 of 25 plate appearances, to set a new record for a six-game series.