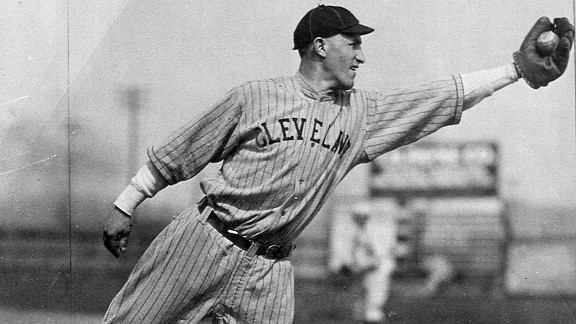 Mark Rucker/Transcendental Graphics/Getty Images
Cleveland (AL) 5, Brooklyn (NL) 2
Game Scores:
CLE 3, BRO 1 @ BRO
BRO 3, CLE 0 @ BRO
BRO 2, CLE 1 @ BRO
CLE 5, BRO 1 @ CLE
CLE 8, BRO 1 @ CLE
CLE 1, BRO 0 @ CLE
CLE 3, BRO 0 @ CLE

Why the Indians won: Cleveland overcame the death of star shortstop Ray Chapman in August as Stan Coveleski won all three of his starts, allowing just two runs.
Why the Robins lost: They went scoreless over the final 18 innings and scored only two runs over the final four games and one run over the final three.
Memorable moment: Game 5 featured the only triple play in World Series history (unassisted by Bill Wambsganss), the first grand slam (Elmer Smith) and the first home run by a pitcher (Jim Bagby).
Key stat: 0. The number of times the lead changed hands in any of the seven games.