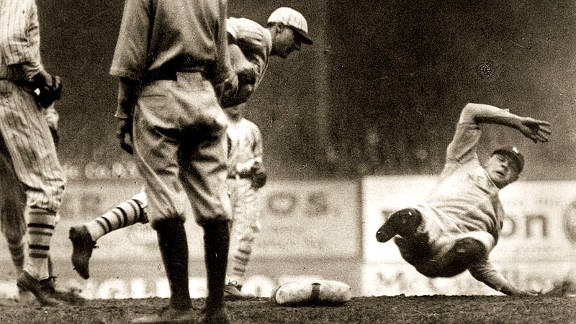 Mark Rucker/Transcendental Graphics/Getty Images
New York (NL) 4, New York (AL) 0
Game Scores:
NYG 3, NYY 2 @ NYG
NYG 3, NYY 3 @ NYY
NYG 3, NYY 0 @ NYG
NYG 4, NYY 3 @ NYY
NYG 5, NYY 3 @ NYG

Why the Giants won: In John McGraw's third and final World Series victory, the Giants held the Yankees to 18 hits over the final three games.
Why the Yankees lost: Babe Ruth hit just .118 (2-for-17) as the Yankees hit .203 as a team.
Memorable moment: Game 2 was a controversial tie, with fans livid that the game was called while there was still enough daylight. Commissioner Kenesaw Landis ordered the gate receipts turned over to a World War I charity.
Key stat: .472. The combined batting average of both Heinie Groh (9-for-19) and Frankie Frisch (8-for-17), the Giants' No. 2 and No. 3 hitters.