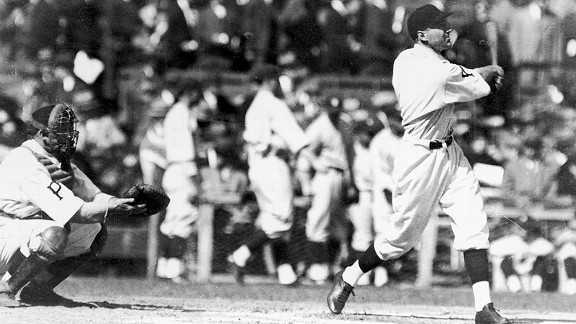 Bruce Bennet Studios/Getty Images
Pittsburgh (NL) 4, Washington (AL) 3
Game Scores:
WAS 4, PIT 1 @ PIT
PIT 3, WAS 2 @ PIT
WAS 4, PIT 3 @ WAS
WAS 4, PIT 0 @ WAS
PIT 6, WAS 3 @ WAS
PIT 3, WAS 2 @ PIT
PIT 9, WAS 7 @ PIT

Why the Pirates won: One of five teams to be down 3-1 in a best-of-7 and win, the Pirates lashed out 15 hits off Walter Johnson in Game 7.
Why the Senators lost: Game 7 featured fog and a steady downpour, with manager Bucky Harris receiving criticism for leaving in Johnson to allow five runs in the final two innings.
Memorable moment: In Game 3, Washington's Sam Rice made a diving catch and plunged into the temporary stands, emerging 15 seconds later with the ball. It was controversially ruled a catch.
Key stat: 8. The number of errors made by Senators shortstop Roger Peckinpaugh -- the AL MVP in 1925 -- including two in the late innings of Game 7.