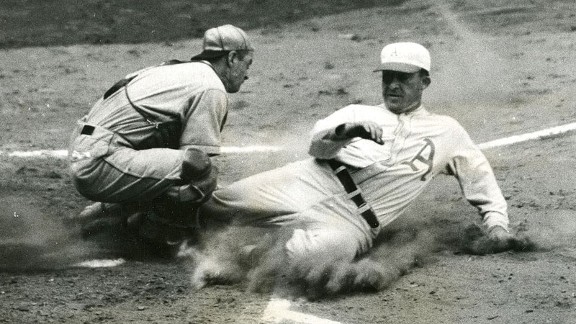 Mark Rucker/Transcendental Graphics/Getty Images
St. Louis (NL) 4, Philadelphia (AL) 3
Game Scores:
PHI 6, STL 2 @ STL
STL 2, PHI 0 @ STL
STL 5, PHI 2 @ PHI
PHI 3, STL 0 @ PHI
STL 5, PHI 1 @ PHI
PHI 8, STL 1 @ STL
STL 4, STL 2 @ STL

Why the Cardinals won: Pepper Martin, a 27-year-old rookie, wreaked havoc on the A's, going 12-for-24 (.500) with five runs, five extra-base hits, five RBIs and five steals.
Why the A's lost: Hall of Fame catcher Mickey Cochrane had a poor series (4-for-25). In Game 7, the A's allowed two first-inning runs on a wild pitch and an error and lost 4-2.
Memorable moment: Martin made a spectacular running catch on Max Bishop's two-on, two-out line drive in the bottom of the ninth to end the Series.
Key stat: 8. It was the eighth and final World Series for venerable A's manager Connie Mack.