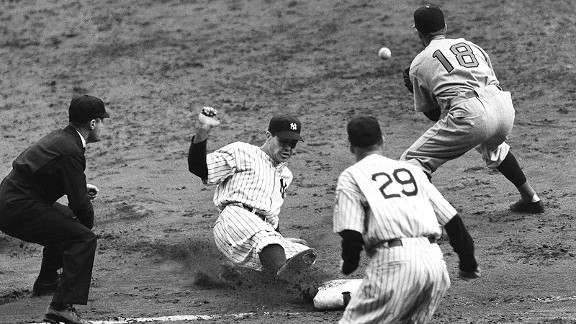 AP Photo
New York (AL) 4, Cincinnati (NL) 0
Game Scores:
NYY 2, CIN 1 @ NYY
NYY 4, CIN 0 @ NYY
NYY 7, CIN 3 @ CIN
NYY 7, CIN 4 @ CIN

Why the Yankees won: Rookie Charlie "King Kong" Keller blasted the Reds, hitting .438 with a 1.188 slugging percentage, three homers, six RBIs and eight runs scored.
Why the Reds lost: There were several black holes in the Reds' lineup, including Wally Berger (0-for-15), Lonny Frey (0-for-17) and Harry Craft (1-for-11).
Memorable moment: In the ninth inning of Game 4, in a play known as "Lombardi's Snooze," Keller collided with Reds catcher Ernie Lombardi, who was left rolling on the ground as another run scored.
Key stat: 4. The number of home runs allowed by Reds pitcher Junior Thompson in Game 3, tying a single-game Series record.