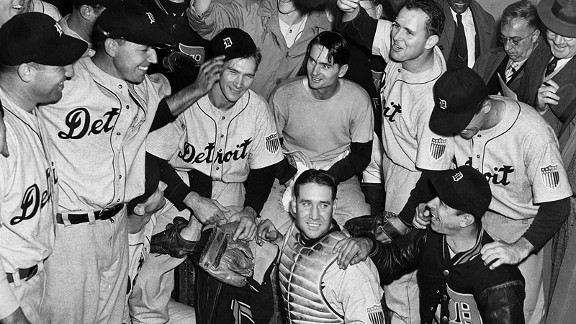 Icon SMI
Detroit (AL) 4, Chicago (NL) 3
Game Scores:
CHI 9, DET 0 @ DET
DET 4, CHI 1 @ DET
CHI 3, DET 0 @ DET
DET 4, CHI 1 @ CHI
DET 8, CHI 4 @ CHI
CHI 8, DET 7 @ CHI
DET 9, CHI 3 @ CHI

Why the Tigers won: The Tigers got the great series they needed from Hank Greenberg, who had an 1.162 OPS and drove in seven runs with five extra-base hits.
Why the Cubs lost: Despite a 49-26 home record, the Cubs lost three of four at Wrigley Field. Their only win, Game 6 in 12 innings, was called "the worst game of baseball ever played in this country."
Memorable moment: In Game 7, Cubs manager Charley Grimm started Hank Borowy on only one day of rest. Borowy gave up three straight hits before being replaced, and the Tigers scored five runs in the first and won easily.
Key stat: 26. The record number of players the Tigers used in the series, since tied by the '46 Red Sox and '97 Marlins.