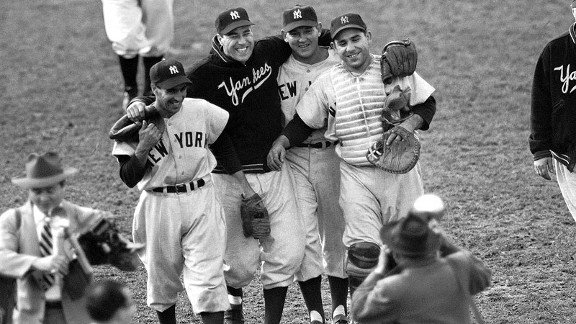 AP Photo
New York (AL) 4, New York (NL) 2
Game Scores:
NYG 5, NYY 1 @ NYY
NYY 3, NYG 1 @ NYY
NYG 6, NYY 2 @ NYG
NYY 6, NYG 2 @ NYG
NYY 13, NYG 1 @ NYG
NYY 4, NYG 3 @ NYY

Why the Yankees won: Lefty Eddie Lopat spun two complete-game gems (Games 2 and 5) and allowed one earned run in 18 innings.
Why the Giants lost: After taking a 2-1 series lead, they dropped the final three games due to subpar starting pitching; Sal Maglie, Larry Jansen and Dave Koslo had a 8.36 ERA in 14 innings.
Memorable moment: With the tying run on second in Game 6, Yankees right fielder Hank Bauer made a spectacular sliding catch on Sal Yvars' sinking liner to end the game and the Series.
Key stat: 10. It was the 10th and final World Series for Joe DiMaggio, who then retired from baseball at age 36.