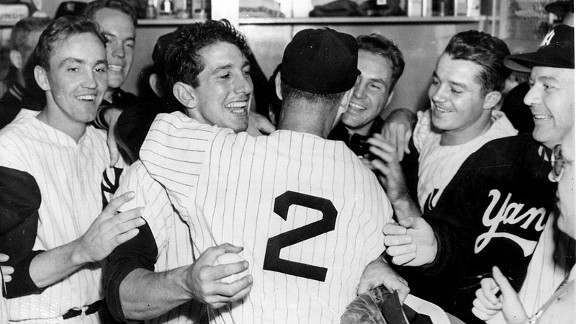 AP Photo
New York (AL) 4, Brooklyn (NL) 2
Game Scores:
NYY 9, BRO 5 @ NYY
NYY 4, BRO 2 @ NYY
BRO 3, NYY 2 @ BRO
BRO 7, NYY 3 @ BRO
NYY 11, BRO 7 @ BRO
NYY 4, BRO 3 @ NYY

Why the Yankees won: Billy Martin, later known as a mercurial Hall of Fame manager, finished with a then-record 12 hits, eight RBIs and a 1.478 OPS.
Why the Dodgers lost: With the series tied 2-2 and the two teams evenly matched, the third inning in Game 5 proved critical for the Dodgers; Gil Hodges' two-out error opened the floodgates for the Yankees, who scored five runs and took control of the series.
Memorable moment: In Game 6, Martin put his final stamp on the series with his 12th hit, a walk-off RBI single to clinch the Yankees' fifth consecutive title.
Key stat: 2. The number of times the Dodgers' Carl Erskine (who had 14 K's) hit Yogi Berra with pitches in Game 3.