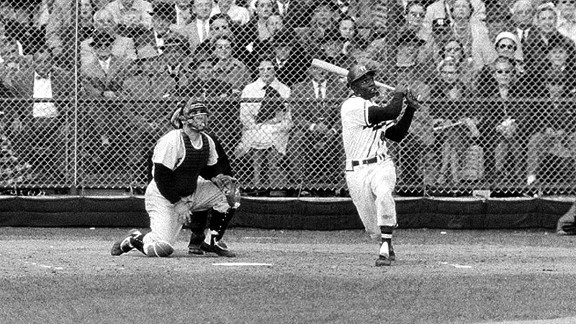 AP Photo
Milwaukee (NL) 4, New York (AL) 3
Game Scores:
NYY 3, MIL 1 @ NYY
MIL 4, NYY 2 @ NYY
NYY 12, MIL 3 @ MIL
MIL 7, NYY 5 @ MIL
MIL 1, NYY 0 @ MIL
NYY 3, MIL 2 @ NYY
MIL 5, NYY 0 @ NYY
MVP:
Lew Burdette
Why the Braves won: Lew Burdette tossed three complete-game victories (Games 2, 5 and 7), two on shutouts, the last one on two days' rest.
Why the Yankees lost: They lost three of the last four, two on shutouts; plus, Mickey Mantle hurt his right shoulder and didn't start Games 5 and 6.
Memorable moment: In the 10th inning of Game 4, pinch-hitter Nippy Jones argued successfully that Tommy Byrne's pitch hit him on the foot by pointing to the shoe polish on the ball. The Braves then scored three runs to win the game.
Key stat: .393. Hank Aaron's batting average; he had 11 hits, including three HRs and a triple, and seven RBIs.