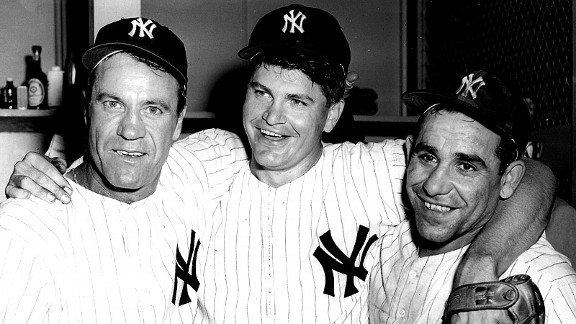 TSN/Zuma Press/Icon SMI
New York (AL) 4, Milwaukee (NL) 3
Game Scores:
MIL 4, NYY 3 @ MIL
MIL 13, NYY 5 @ MIL
NYY 4, MIL 0 @ NYY
MIL 3, NYY 0 @ NYY
NYY 7, MIL 0 @ NYY
NYY 4, MIL 3 @ MIL
NYY 6, MIL 2 @ MIL
MVP:
Bob Turley

Why the Yankees won: After his Game 5 shutout, Bob Turley pitched in relief in Games 6 & 7 to get two wins and a save in three straight elimination games.
Why the Braves lost: Neither of their big boppers, Hank Aaron or Eddie Mathews, hit a home run.
Memorable moment: In the third inning of Game 7 with two on, Casey Stengel brought in Turley on no rest (and just two days after his CG shutout) to pitch the rest of the game for the win.
Key stat: 0. The total runs scored by the losing teams in New York, as Don Larsen (with closer Ryne Duren) and Turley bookended Warren Spahn's shutout for Milwaukee.