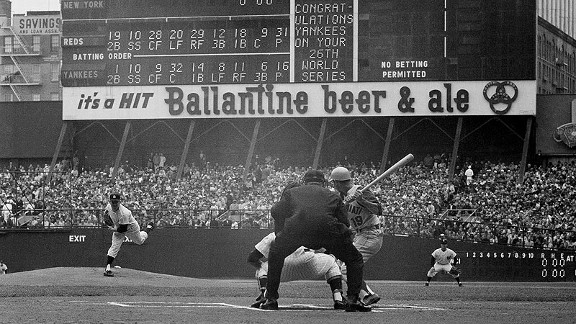 AP Photo
New York (AL) 4, Cincinnati (NL) 1
Game Scores:
NYY 2, CIN 0 @ NYY
CIN 6, NYY 2 @ NYY
NYY 3, CIN 2 @ CIN
NYY 7, CIN 0 @ CIN
NYY 13, CIN 5 @ CIN
MVP:
Whitey Ford

Why the Yankees won: With Mickey Mantle hurting and Roger Maris drained by his 61 HR season, Whitey Ford and the rest of the team picked them up.
Why the Braves lost: They couldn't hang with the Yankees' lineup-wide depth and power, and they couldn't touch Whitey Ford.
Memorable moment: In the top of the ninth in Game 3, Maris hit his lone HR of the series, but it snapped a tie game and ended the Reds' chance to make the series last.
Key stat: 32. The new WS record for consecutive scoreless innings, set by Ford (including 1960), which surpassed Babe Ruth's mark.