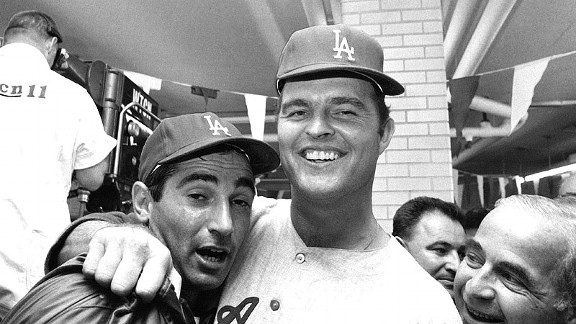 Herb Scharfman/Sports Imagery/Getty Images
Los Angeles (NL) 4, Minnesota (AL) 3
Game Scores:
MIN 8, LAD 2 @ MIN
MIN 5, LAD 1 @ MIN
LAD 4, MIN 0 @ LAD
LAD 7, MIN 2 @ LAD
LAD 7, MIN 0 @ LAD
MIN 5, LAD 1 @ MIN
LAD 2, MIN 0 @ MIN
MVP:
Sandy Koufax

Why the Dodgers won: Shutouts from Claude Osteen in Game 3 and Sandy Koufax in Game 5 gave manager Walter Alston a choice for Game 7: Don Drysdale, or Koufax on two days' rest? He picked Koufax, getting another shutout.
Why the Twins lost: Beating Drysdale & Koufax in the first two games wasn't going to last, and not starting Jim Perry didn't help.
Memorable moment: Koufax refused to pitch Game 1 as a matter of faith; it was Yom Kippur.
Key stat: 0.38. Koufax's ERA after three starts in the series. He posted two shutouts and struck out 29 in 24 innings.