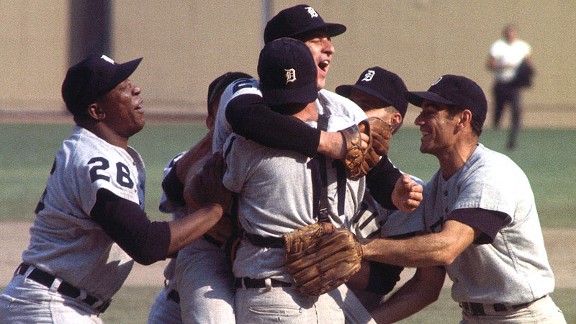 Focus On Sport/Getty Images
Detroit (AL) 4, St. Louis (NL) 3
Game Scores:
STL 4, DET 0 @ STL
DET 8, STL 1 @ STL
STL 7, DET 3 @ DET
STL 10, DET 1 @ DET
DET 5, STL 3 @ DET
DET 13, STL 1 @ STL
DET 4, 1 @ STL
MVP:
Mickey Lolich

Why the Tigers won: After Denny McLain lost twice to Bob Gibson (Games 1 and 4) and Mickey Lolich threw CG wins (Games 2 and 5), manager Mayo Smith started McLain and Lolich on two days' rest in Games 6 and 7.
Why the Cardinals lost: Timing. Leading 3-1, the Cards faced Lolich twice and McLain once in the last three games, and lost all three.
Memorable moment: Down 3-2 in Game 5, Al Kaline singled in two runs in the seventh to give Detroit the lead; they never trailed in any inning of the series again.
Key stat: 68. The number of big league innings Mickey Stanley had played at shortstop before Mayo Smith made Stanley his everyday SS in the World Series.