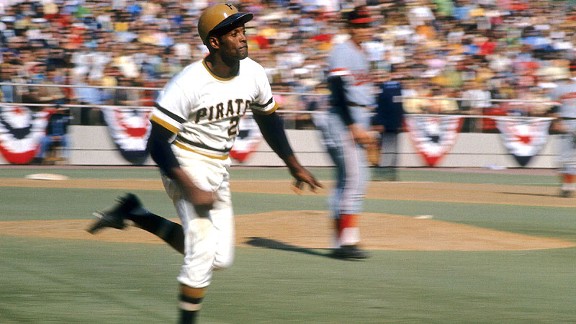 Focus On Sport/Getty Images
Pittsburgh (NL) 4, Baltimore (AL) 3
Game Scores:
BAL 5, PIT 3 @ BAL
BAL 11, PIT 3 @ BAL
PIT 5, BAL 1 @ PIT
PIT 4, BAL 3 @ PIT
PIT 4, BAL 0 @ PIT
BAL 3, PIT 2 @ BAL
PIT 2, BAL 1 @ BAL
MVP:
Roberto Clemente

Why the Pirates won: Swingman Nelson Briles' shutout in a Game 5 spot start let the Pirates get past Dock Ellis' injury and leave Steve Blass lined up for his Game 7 gem.
Why the Orioles lost: They outscored the Bucs by a run, but the last four games involved three one-run games and a shutout. Boog Powell and Davey Johnson got shut down as well.
Memorable moment: First pitch, Game 4, starting the first night game in World Series history.
Key stat: 14. Roberto Clemente's World Series hitting streak; he hit safely in every game of the 1960 and '71 Series.