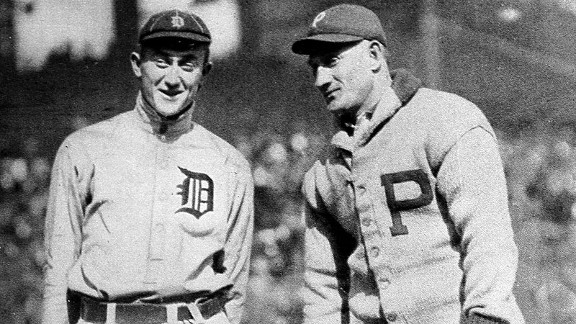 Mark Rucker/Transcendental Graphics/Getty Images
Pittsburgh (NL) 4, Detroit (AL) 3
Game Scores:
PIT 4, DET 1 @ PIT
DET 7, PIT 2 @ PIT
PIT 8, DET 6 @ DET
DET 5, PIT 0 @ DET
PIT 8, DET 4 @ PIT
DET 5, PIT 4 @ DET
PIT 8, DET 0 @ PIT

Why the Pirates won: Rookie Babe Adams was the team's surprise Game 1 starter and ended up throwing three complete-game wins.
Why the Tigers lost: Detroit stars Ty Cobb and Sam Crawford combined for nine RBIs, but hit just .241.
Memorable moment: "I'll never forget the look on Adams' face when I told him I wanted him to pitch the opener," said Pirates manager Fred Clarke.
Key stat: .311. The difference in OPS between Pirates star Honus Wagner (.967) and Cobb (.656). Wagner hit .333 with six steals.