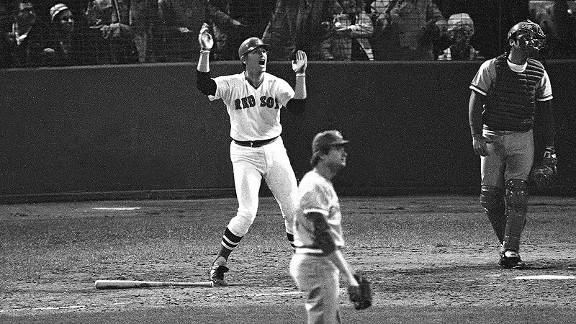 AP Photo/Harry Cabluck
Cincinnati (NL) 4, Boston (AL) 3
Game Scores:
BOS 6, CIN 0 @ BOS
CIN 3, BOS 2 @ BOS
CIN 6, BOS 5 @ CIN
BOS 5, CIN 4 @ CIN
CIN 6, BOS 4 @ CIN
BOS 7, CIN 6 @ BOS
CIN 4, BOS 3 @ BOS
MVP:
Pete Rose

Why the Reds won: Rose, Joe Morgan and Ken Griffey got on base all series long, and Sparky Anderson used good relief combinations to compensate for a mediocre rotation.
Why the Red Sox lost: They didn't have much pitching depth and lost both games not started by Luis Tiant or Bill Lee.
Memorable moment: In what might be the greatest WS ever, Carlton Fisk waving his walk-off homer fair in the bottom of the 12th in Game 6 is one of the most famous plays in baseball history.
Key stat: .370. Rose's batting average in the series with 10 hits; plus, he drew five walks.