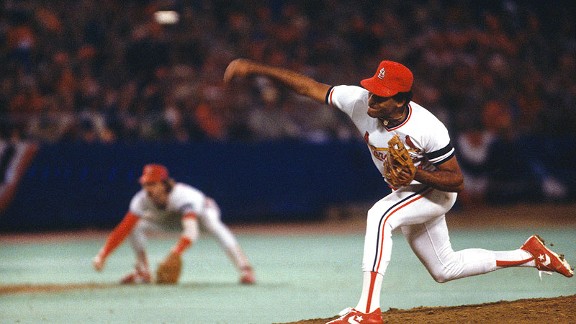 Focus On Sport/Getty Images
St. Louis (NL) 4, Milwaukee (AL) 3
Game Scores:
MIL 10, STL 0 @ STL
STL 5, MIL 4 @ STL
STL 6, MIL 2 @ MIL
MIL 7, STL 5 @ MIL
MIL 6, STL 4 @ MIL
STL 13, MIL 1@ STL
STL 6, MIL 3 @ STL
MVP:
Darrell Porter

Why the Cardinals won: Lineup depth, speed and defense, with Ozzie Smith and Willie McGee throwing some serious leather. Plus closer Bruce Sutter's durability.
Why the Brewers lost: The absence of injured relief ace Rollie Fingers left them without a closer.
Memorable moment: The impact of Fingers' absence was clear in the bottom of the eighth inning of Game 2, when Pete Ladd walked consecutive batters to force in the winning run.
Key stat: 1.35, the ERA of Cardinals ace starter Joaquin Andujar while winning Games 3 and 7.