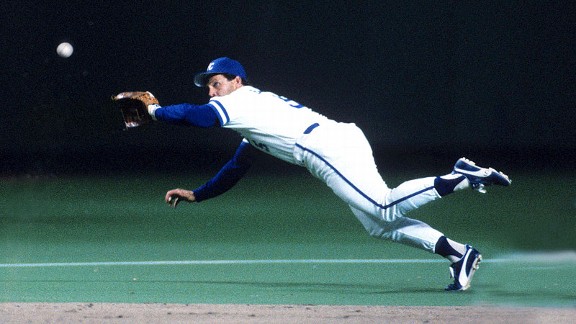 Ronald C. Modra/Sports Imagery/Getty Images
Kansas City 4 (AL), St. Louis 3 (NL)
Game Scores:
STL 3, KC 0 @ KC
STL 4, KC 2 @ KC
KC 6, STL 1 @ STL
STL 3, KC 0 @ STL
KC 6, STL 1 @ STL
KC 2, STL 1 @ KC
KC 11, STL 0 @ KC
MVP:
Bret Saberhagen
Why the Royals won: Bret Saberhagen came up big. The Series MVP won Game 3 when K.C. was down 2-0 then took care of a huge lead in Game 7.
Why the Cardinals lost: The Cardinals' offense struggled over five games.
Memorable moment: Umpire Don Denkinger's blown call at first first base in Game 6 to open the Royals' two-run eighth inning.
Key stat: .185. The Cardinals' batting average over the seven-game series.