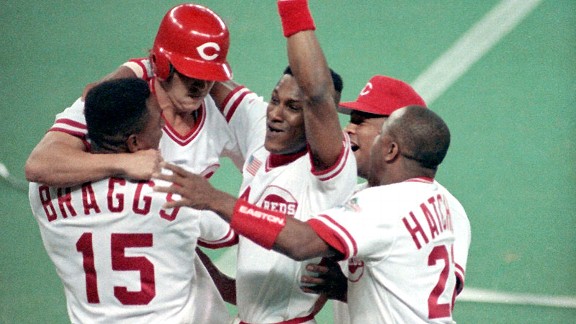 AP Photo/Mark Duncan
Cincinnati (NL) 4, Oakland (AL) 0
Game Scores:
CIN 7, OAK 0 @ CIN
CIN 5, OAK 4 @ CIN
CIN 8, OAK 3 @ OAK
CIN 2, OAK 1 @ OAK
MVP:
Jose Rijo
Why the Reds won: Starting pitcher Jose Rijo dominated, winning twice (Games 1 and 4) and allowing one run in 15.1 innings.
Why the A's lost: For the second time in the three World Series, Jose Canseco and Mark McGwire struggled, combining to go 4-for-25.
Memorable moment: Billy Hatcher set a World Series record with seven consecutive hits.
Key stat: 0. The number of earned runs allowed by "The Nasty Boys" -- Rob Dibble, Norm Charlton and Randy Myers.