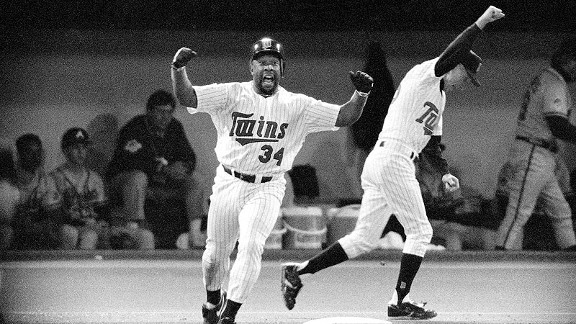 AP Photo/Doug Mills
Minnesota (AL) 4, Atlanta (NL) 3
Game Scores:
MIN 5, ATL 2 @ MIN
MIN 3, ATL 2 @ MIN
ATL 5, MIN 4 @ ATL
ATL 3, MIN 2 @ ATL
ATL 14, MIN 5 @ ATL
MIN 4, ATL 3 @ MIN
MIN 1, ATL 0 @ MIN
MVP:
Jack Morris
Why the Twins won: Just like in the 1987 series, Minnesota took care of its business at home in a series when no road team won.
Why the Braves lost: The Braves couldn't figure out Jack Morris, who had a 1.17 ERA over three starts.
Memorable moment: Game 7 went 10 innings and ended in 1-0 Twins win. Morris pitched all 10 innings in a duel with the Braves' John Smoltz.
Key stat: 4. The number of one-run games in the Series.