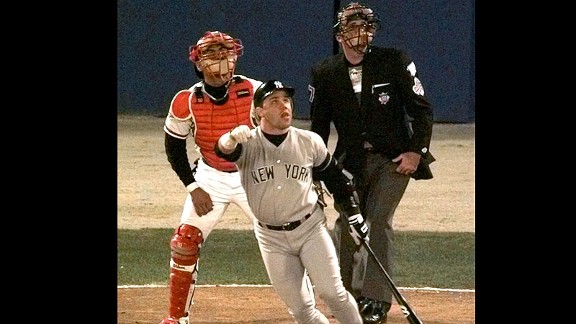 AP Photo/Ron Frehm
New York (AL) 4, Atlanta (NL) 2
Game Scores:
ATL 12, NYY 1 @ NYY
ATL 4, NYY 0 @ NYY
NYY 5, ATL 2 @ ATL
NYY 8, ATL 6 @ ATL
NYY 1, ATL 0 @ ATL
NYY 3, ATL 2 @ NYY
MVP:
John Wetteland
Why the Yankees won: After scoring just one run in the first two games, the Yankees did just enough to assist the solid pitching they got the rest of the series.
Why the Braves lost: The Braves couldn't do anything with the back end of the Yanks' bullpen, notably John Wetteland and Mariano Rivera.
Memorable moment: The Yankees overcame a 6-0 deficit in Game 4, scoring eight unanswered runs for an 8-6 win.
Key stat: 4,272. That was the number of games Yankees skipper Joe Torre played or managed before competing in a World Series.