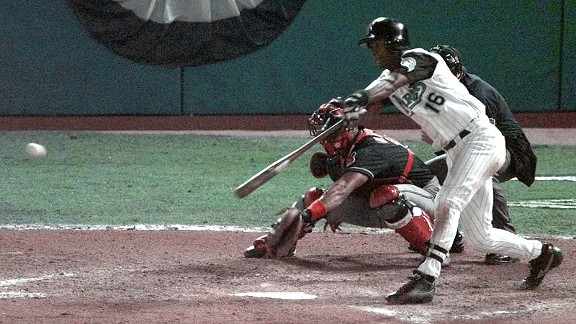 AP Photo/Pat Sullivan
Florida (NL) 4, Cleveland (AL) 3
Game Scores:
FLA 7, CLE 4 @ FLA
CLE 6, FLA 1 @ FLA
FLA 14, CLE 11 @ CLE
CLE 10, FLA 3 @ CLE
FLA 8, FLA 7 @ CLE CLE 4, FLA 1 @ FLA
FLA 3, CLE 2 @ FLA
MVP:
Livan Hernandez
Why the Marlins won: Livan Hernandez, the NLCS MVP, was just as good in the World Series, winning two games to become World Series MVP.
Why the Indians lost: The bullpen made a mess of Game 3, giving up seven runs in the ninth, and Jose Mesa gave up a run in Game 7 to allow the game to go into extras.
Memorable moment: Edgar Renteria's Series-winning RBI in the bottom of the 11th of Game 7.
Key stat: 1. One team won the World Series after being the wild card. And that was this Marlins team.