Happiest day of all finally here: It's Opening Day

By Karl Ravech
ESPN
Archive
Opening Day means everybody's got a fresh slate. In 2010, you have between 18 and 22 teams that believe they have a legitimate chance to win. For the fans of those teams -- and certainly the players who will be playing in different cities or for the first time in the majors -- it's a big deal. Opening Day is the best day of the year. Not the World Series. Not Game 7. Opening Day is the best day of the baseball season. It's a huge deal for fans, especially for those who live in the Northeast or the Midwest, where it has been cold and rainy. For the first time in a long time, people in Washington are excited about baseball. People in Kansas City have their Cy Young pitcher back again. Folks in Minnesota have a new ballpark and can now see the sky when they go to a game. There's reason for optimism throughout the country. There are few teams in the West -- NL and AL -- that don't think they can compete for a division title this year. Even the Padres enter thinking they have a chance to win. Some say Opening Day is only one game. Many teams have lost on Opening Day and went on to win the World Series. Anyone who denies the symbolic significance of it doesn't understand baseball. There are certain marquee events during the baseball season. The All-Star Game, playoffs, Memorial Day, Fourth of July … they are all important, but Opening Day tops the list. It is incredibly important for organizations, because they are able to parade their offseason work: the players they acquired, along with their new ballparks and new uniforms.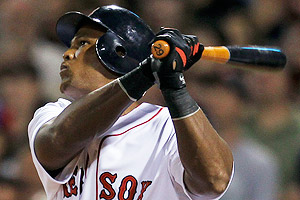 AP Photo/Charles KrupaA new location. Less pressure on him. Short porch in left field. Could be a big year for Adrian Beltre.
Looking ahead, I think the Red Sox's
Adrian Beltre
will have the biggest turnaround year. The third baseman has a one-year deal and is now playing in a town where he's surrounded by great players. He has a wall in left field that he can hit balls against, and his glove will be appreciated because there's enough offense around him. I think he has a chance to hit 20-30 home runs, be a Gold Glove third baseman and be in the playoffs. The team to watch for this season is the
Cincinnati Reds
. Yes, the Reds. The Reds have an excellent pitching staff, and Aroldis Chapman is going to be an interesting story. If they can stay healthy, they have some pretty good offensive players.
Joey Votto
needs to have a good year.
Johnny Cueto
needs to be healthy. Plus, they have arguably one of the best second basemen in baseball in
Brandon Phillips
. A lot of people have jumped off the
Minnesota Twins
bandwagon because closer
Joe Nathan
got hurt, but that isn't smart, because they are a competitive team. The hardest question is which division is the most competitive. Going by the number of teams, I imagine it would be the NL West. The Rockies are strong. The Diamondbacks will have a bounce-back year. The Giants are really good. Don't forget, too, that the Dodgers won it last year. There is no division in which one team has separated itself; even the Cardinals aren't a runaway lock in the Central this year. Tampa has joined Boston and New York as a competitive force again. The
Florida Marlins
are better. The AL West is closer, with Seattle and Texas improving their teams. I don't think the separation from the teams that have historically finished first is nearly as great as it has been. Let's celebrate Opening Day, not downplay the significance of it. Even when players say it's just another game, it's not. If a player happens to go 3-for-4 with two home runs, he will never forget Opening Day 2010. If a pitcher strikes out seven and throws eight innings, he'll never forget it. Opening Day is the best day of the calendar year.
Karl Ravech hosts "Baseball Tonight."
Baseball Tonight Live
Baseball Tonight analysts, ESPN.com writers and SweetSpot Network bloggers chatted with fans and gave their in-game opinions throughout Sunday's games -- all in Baseball Tonight Live.
Touch 'Em All

Who went deep? Keep track of all the home runs hit each day on "Baseball Tonight" and the Baseball Tonight Clubhouse page. For more, check out the Home Run Tracker page.
BASEBALL TONIGHT ON THE AIR
MONDAY
10 p.m. ET on ESPN
Host: Karl Ravech
Analysts: John Kruk, Nomar Garciaparra, Buster Olney, Bobby Valentine, Tim Kurkjian
1 a.m. ET on ESPN2
Host: Steve Berthiaume
Analysts: John Kruk, Bobby Valentine, Nomar Garciaparra
OPENING STATEMENT
Red Sox fight back, take opener vs. Yanks.
WEDNESDAY'S BEST AND WORST
BEST
Dustin Pedroia, 2B, Red Sox

Pedroia
Pedroia went 2-for-4 with a walk and three RBIs. The big blow, though, was the two-run, game-tying homer in the seventh inning that floated over the Green Monster as the Red Sox overcame an early hole to get the win at Fenway Park.
---
WORST
Chan Ho Park, RHP, Yankees

Park
Park's debut with the Red Sox didn't go all that well. He gave up three runs on three hits -- one of 'em was the two-run shot by Pedroia -- in just two-thirds of an inning of work. Park was saddled with the loss in the 9-7 Boston defeat.
MONDAY'S TOP MATCHUPS


OK, so Chris Carpenter dominated just about everybody last year. But Carpenter, who starts the opener in Cincinnati, really had his way with the Reds. He went 4-0 with a 1.29 ERA with -- wait for it -- 24 strikeouts against only two walks.
---


Perhaps you've heard that Roy Halladay was traded to the Phillies this offseason. You have, huh? If opponents are looking for a chance to get to Halladay, the first month of the season is their chance. His 4.13 ERA in March/April is the highest of any month in his career.
---


Tim Lincecum starts his run at a third consecutive Cy Young award. His first outing last season didn't go so well: three innings, four hits, three runs, three walks against the Brewers. Roy Oswalt didn't win his first game last season until May 10.

Lind
Over the past 10 years, a growing appreciation for the concept of service time has swept Major League Baseball. One of the effects of this has been a willingness by teams to mitigate risk by locking players they consider to be franchise cornerstones into long-term deals. For the team, this provides a degree of budget certainty and avoids the hassle of arbitration. For the player, it might not represent maximum earning potential, but it's a balance between the risk of going year-to-year and the safety of guaranteeing oneself some degree of financial security.
The
Toronto Blue Jays
and slugger
Adam Lind
continued this trend, as the Jays locked up their offensive cornerstone with a four-year, $18 million deal that buys out three arbitration years and gives the club options on three free agent years.
How the money works
| Adam Lind | Scheduled salary |
| --- | --- |
| 2010 | $1.0M (inc. signing bonus) |
| 2011 | $5.5 million |
| 2012 | $5.5 million |
| 2013 | $5.5 million |
| 2014 | $7.0 million |
| 2015 | $7.5 million |
| 2016 | $8.0 million |