Talent will always travel well

By John Kruk
ESPN
Archive
Spring is here, the weather is warming up and Major League Baseball's regular season is finally underway. In the offseason, a number of players were shuffled around to different leagues and divisions. Let's take a look at how some of these players have fared in each of their season debuts. Let's start in the NL East with the
Philadelphia Phillies
.
Roy Halladay
was one of the biggest offseason acquisitions. In just seven innings pitched, he had nine strikeouts and gave up just one run -- and that came in the first inning. Hitters in the AL East are so happy Halladay is gone. He's a serious threat, and people are going to see just how great of a threat he is with the Phils. His work ethic is off the charts, and he already has an idea of how he's going to pitch to certain players in the NL. Halladay is prepared, and I'd be surprised if he doesn't win the Cy Young.
[+] Enlarge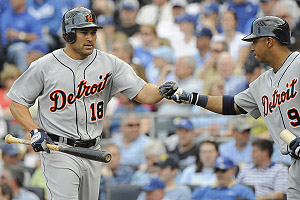 G. Newman Lowrance/Getty ImagesDon't worry about Johnny Damon. He'll be just fine in Detroit.
The Phillies also scored big when they picked up
Placido Polanco
, who went 3-for-5, hit a grand slam and drove home six runs. Polanco and Halladay, not a bad 1-2 punch. Elsewhere, former Red Sox outfielder
Jason Bay
made an impressive debut at Citi Field by going 2-for-4 with a triple for the Mets. Bay's effort helped
Johan Santana
and the Mets pick up a 7-1 win over the
Florida Marlins
. If the Mets want to be a contender, they will need Bay to maintain his strong effort. With his first swing in the major leagues, Atlanta's Jason Heyward knocked one out of the park. In addition to his big home run, Heyward racked up another hit late as the Braves blew out the Cubs. What an impressive game for a 20-year-old kid. People are expecting great things from him, and I'm sure he will not disappoint. Even manager Bobby Cox has said the sky is the limit with Heyward because he really wants to be great. In the AL West,
Vladimir Guerrero
is already causing a stir. A lot of people talk about how well he has hit against the
Texas Rangers
in his career, and in his Opening Day debut with Texas he went 2-for-3. Guerrero's ability to be a power guy who can hit 30-40 homers is still questionable. Some thought
Johnny Damon
would struggle in Detroit, but his start was solid, going 2-for-5 in the Tigers' 8-4 win over the Royals. He had two RBIs and two runs scored. Remember that even though some of these guys are old, they are still great players who can still hit. Watching how these new guys play, react and adjust to their new environments is fascinating. Everyone is off to a great start, so the next 161 games should be pretty entertaining.
John Kruk is an analyst for "Baseball Tonight."
Baseball Tonight Live
Baseball Tonight analysts, ESPN.com writers and SweetSpot Network bloggers chatted with fans and gave their in-game opinions throughout Sunday's games -- all in Baseball Tonight Live.
Touch 'Em All

Who went deep? Keep track of all the home runs hit each day on "Baseball Tonight" and the Baseball Tonight Clubhouse page. For more, check out the Home Run Tracker page.
| NAME | HR | OPP | SITUATION | Pitcher |
| --- | --- | --- | --- | --- |
| Nelson Cruz, TEX | 1 | TOR | Bot 7: 2-2, 1 Out. 2 on. | Marcum |
| Jason Heyward, ATL | 1 | CHC | Bot 1: 2-0, 1 Out. 2 on. | Zambrano |
| David Wright, NYM | 1 | FLA | Bot 1: 1-0, 1 Out. 1 on. | Johnson |
| Placido Polanco, PHI | 1 | WAS | Top 7: 1-0, 2 Outs. Grand Slam. | Bergmann |
| Stephen Drew, ARI | 1 | SD | Bot 4: 2-2, 2 Outs. 1 on. | Garland |
BASEBALL TONIGHT ON THE AIR
TUESDAY
10 p.m. ET on ESPN2
Host: Karl Ravech
Analysts: John Kruk, Aaron Boone, Buster Olney, J.P. Ricciardi
12 a.m. ET on ESPN2
Host: Karl Ravech
Analysts: John Kruk
WHAT A DAY!
Heyward homers in first at-bat
WEDNESDAY'S BEST AND WORST
BEST
Albert Pujols, 1B, Cardinals

Pujols
What will likely be the first of many appearances in this spot for Pujols, who homered twice as part of his 4-for-5 day in the Cardinals' 11-6 thumping of the Reds.
---
WORST
Carlos Zambrano, RHP, Cubs

Zambrano
The right-hander's ERA stands at 54.00. That's what happens when you permit eight runs in 1 1/3 innings of work. Zambrano allowed six hits and two homers -- one to Jason Heyward -- as the Cubs were pounded by the Braves in Atlanta.
TUESDAY'S TOP MATCHUPS
Yankees at Red Sox, 7:10 p.m. ET


Offense was the name of the game in Sunday night's season opener, which the Red Sox won 9-7. A.J. Burnett and Jon Lester will try to turn the attention to the pitching. Burnett went 0-2 with an 8.85 ERA in four starts against the Red Sox last year; Lester was 1-1 with a 4.43 ERA in four starts against the Yankees.
---
Giants at Astros, 8:05 p.m. ET


Barry Zito dominated the Astros last year, posting a 2-0 record and 0.95 ERA against Houston in four starts. Wandy Rodriguez, meanwhile, did not face the Giants at all last year.
---
Twins at Angels, 10:05 p.m. ET


Joe Mauer hit most teams well last season, but he really hurt the Angels. Mauer batted .419 with a 1.229 OPS, homering three times and driving home nine runs in 31 at-bats against the Angels.

Dunn
There has been some discussion regarding a possible contract extension for Nationals slugger Adam Dunn. After finding a fairly chilled market for him after the 2008 season, Dunn signed with the downtrodden Nationals for two years and $20 million -- $8 million in 2009 and $12 million in 2010. Dunn delivered exactly what should have been expected, with his .267/.398/.529 actually an improvement on his career numbers entering 2009 (.247/.381/.518).
All that being said, Dunn's defense continues to be a serious problem. In fact, despite contributing a .928 OPS and 38 homers, Dunn was worth less than two wins above replacement according to
Fangraphs.com
. While Dunn remains a player worth having even if he has to play the field, he's entering his age 30 season and does not fit in with the Nationals' long-term core, namely
Ryan Zimmerman
(25) and Stephen Strasburg (21).
Adam Dunn, past 4 seasons
| Year | WAR | Salary | Value |
| --- | --- | --- | --- |
| 2009 | 1.8 | $7.5 mil | $6.7 mil |
| 2008 | 2.8 | $10.1 mil | $11.7 mil |
| 2007 | 1.3 | $13.0 mil | $5.7 mil |
| 2006 | 1.3 | $8.0 mil | $5.7 mil |