Rangers sending a message this week

By John Kruk
ESPN
Archive
The Rangers know they can compete and I think it all started in the offseason when they picked up
Vladimir Guerrero
. I've heard
Texas Rangers
president and soon-to-be part owner Nolan Ryan say that the team has gotten a lot more out of Guerrero than it expected. He's had an unbelievable presence in the lineup and in the clubhouse.
[+] Enlarge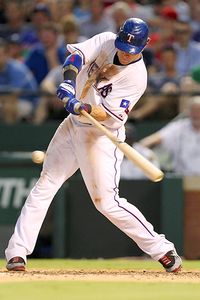 Matthew Emmons/US PresswireJosh Hamilton is putting together an MVP-type season.
Nelson Cruz
was an MVP candidate at the beginning of the season and then he got hurt and tailed off. Since then, the Rangers seem to be doing an excellent job of picking up the slack for each other offensively. When
Josh Hamilton
wasn't hitting, Cruz and Guerrero stepped up. When Cruz got hurt, Hamilton started picking it up and now he's having an MVP-caliber season. At one point, Texas relied heavily on hitting home runs, but now the Rangers are more diverse offensively. Manager Ron Washington has them executing different ways to score runs and he's completely changed the team's mindset. Guerrero was potent in his prime and was one of the most feared players in baseball. Vlad was
that guy
. When he came up to bat, everyone took notice. People don't understand what it means to have a guy in the middle of your lineup that everyone fears. There's something about that one swing or clutch hit that you know he will deliver on a nightly basis that's comforting. Hamilton and
Michael Young
can rest assured that they won't have to carry the team by themselves. I remember how relieved I was when we got Jack Clark during my second or third year in the big leagues with the
San Diego Padres
. I thought, "Wow we have a dominant force in the middle of our lineup. This is great!" When one guy can take the pressure off you to perform it's an incredible feeling. The Rangers are in a great position right now because not only do they have Guerrero in the middle of their lineup, but they also have veteran
Cliff Lee
as the ace of the staff. Lee has proved over the past few years that he's one of the best pitchers in baseball. What Lee managed to do in the postseason for the Phillies was incredible. The Yankees won the World Series because they were by far the best team in baseball last year, but Lee was still able to dominate them in two World Series games. He has the ability to pitch in big games and now he can share his experience with other guys on the team like
Tommy Hunter
and
C.J. Wilson
. In their first three outings against the Yankees this season, the Rangers lost all three contests. The Rangers have a chance to send a message this week. I don't care how hot it is in Texas; it's hot across the United States, so don't expect the Rangers to wilt. By the end of this week Texas will have crossed off games against the Yankees, Red Sox and Rays and with a strong showing they'll stamp the AL East's best with a clear sign: "We'll see you in October."
John Kruk is an analyst for "Baseball Tonight."
Baseball Tonight Live
"Baseball Tonight" analysts, ESPN.com writers and SweetSpot Network bloggers chatted and gave their in-game opinions throughout the day's games -- all in Baseball Tonight Live.
Touch 'Em All

Who went deep? Keep track of all the home runs hit each day on "Baseball Tonight" and the Baseball Tonight Clubhouse page. For more, check out the Home Run Tracker page.
| NAME | HR | OPP | SITUATION | Pitcher |
| --- | --- | --- | --- | --- |
| Bobby Abreu, LAA | 14 | KC | Bot 10: 1-1, 1 Out. None on. | Chavez |
| Hanley Ramirez, FLA | 16 | WAS | Top 2: 0-2, 0 Outs. None on. | Olsen |
| Brian McCann, ATL | 17 | HOU | Top 10: 2-0, 1 Out. Grand Slam. | Fulchino |
| Ryan Raburn, DET | 4 | TB | Bot 6: 1-0, 1 Out. 1 on. | Garza |
| Bill Hall, BOS | 14 | TOR | Top 2: 3-2, 0 Outs. None on. | Marcum |
BASEBALL TONIGHT ON THE AIR
THURSDAY
12:30 a.m. ET on ESPN
Host: Steve Berthiaume
Analysts: Eduardo Perez
WEB GEMS LEADERBOARD

This season, "Baseball Tonight" will be tracking Web Gems. Points will be calculated by awarding five points for the night's top defensive play, four points for second, three for third, two for fourth and one for fifth. Scoring will be based on fan voting of the previous night's gems (from the last "Baseball Tonight" each night).
WEDNESDAY'S BEST AND WORST
BEST
Brad Bergesen, RHP, Orioles

Bergesen
Bergesen kept the Orioles rolling in the Buck Showalter era. He permitted only two hits and one run in a complete-game, 3-1 win over the Indians. How unexpected was this outing? Well, Bergesen had not won since May 12, a stretch of 15 outings. He did, however, lose seven times during that span.
---
WORST
David Wright, 3B, Mets

Wright
Wright came to the plate four times in the Mets' 6-2 loss against the Rockies. All four times he walked back to the dugout after a strikeout. Yep, 0-for-4 with four strikeouts. Over his past three games, Wright is 0-for-11 with seven strikeouts. He has not driven home a run this month.
THURSDAY'S BEST MATCHUPS
Red Sox at Blue Jays, 12:37 p.m. ET


John Lackey is coming off consecutive losses, and control has been an issue. Lackey walked eight in losses against the Indians and the Yankees as he gave up 11 runs in 11 1/3 innings of work. The Blue Jays' Brad Mills makes his third start of the year.
---
Dodgers at Phillies, 7:05 p.m. ET


The Dodgers' Clayton Kershaw has not had a good start to August, going 0-2 with a 5.54 ERA. Los Angeles' ailing offense shouldn't mind seeing Joe Blanton. Opponents are hitting .299 this year against the Phillies' starter. Righties especially have had their way; right-handers are hitting .324 against Blanton.
---
Twins at White Sox, 8:10 p.m. ET


The two teams have split the first two games of the series. The Twins send Francisco Liriano to the mound for this one. He is 4-0 over his past five starts. The Minnesota offense has helped him out, scoring at least six runs in four of those outings. Gavin Floyd has been just as good; he's 3-0 over his past four starts, allowing only three runs in 28 innings.
The rest of Thursday's schedule »