Carlos Gonzalez making himself into a superstar
Not only did Colorado match the biggest comeback in Rockies history in a stunning 12-10 win against the Braves on Wednesday, the win also completed a sweep of the National League East leaders and kept Colorado within sight of the NL wild card. And yes, it was
Carlos Gonzalez
who got one of the key hits. Down 10-1 in the third inning, the Rockies chipped away until a four-run eighth inning in which Gonzalez hit a two-run, two-out single that tied the game before
Troy Tulowitzki
and
Todd Helton
followed with RBI singles on the way to a wild win.
[+] Enlarge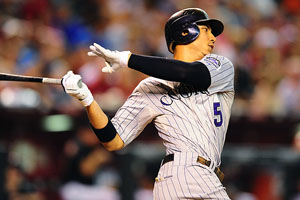 Mark J. Rebilas/US PresswireCarlos Gonzalez can do a little of everything … and he's doing though he's just 24 years old.
Gonzalez is my new favorite player to watch. I realize
Albert Pujols
could come just a few batting average percentage points away from winning the NL Triple Crown and that
Joey Votto
will get a paddleboat-load of MVP votes … but I'll take Carlos Gonzalez over both of them. I know, pass on Pujols? I'm nuts. Got it. I'll still take CarGo. Here's why, and keep in mind, I'm basing this on the ol' "If you could start a team tomorrow for the next 10 years" argument: Gonzalez is hitting .320 with 26 home runs, 84 RBIs and 20 stolen bases, so he has a decent shot at being a 30-30 guy. Here's where CarGo ranks among NL hitters: He's third in batting average, sixth in home runs, third in RBIs, third in slugging at .569, fifth in OPS at .922, seventh with 81 runs scored and 10th in stolen bases. Pujols might win the Triple Crown, but Gonzalez is on his way to a home-field Triple Crown. With his 2-for-4 and two RBIs in the Wednesday afternoon comeback, CarGo is leading all NL hitters with a .377 home batting average, 20 home-field home runs and 54 home-field RBIs. Granted, it's Coors Field, but the numbers are what they are and the runs driven in and produced count the same as anywhere else. All this from a guy who's still developing. Gonzalez made a terrible baserunning blunder Wednesday when he was thrown out trying to steal third base, but remember, he's still only 24 years old and putting up these kinds of numbers for a team that's clawing its way back into the NL wild-card discussion. This year, we've seen Gonzalez make diving Web Gem catches in the outfield, hit towering home runs, steal bases and use that speed to go first to third. The kid can fly. He might be the closest thing in the game right now to a true "five-tool" player. He's in Colorado, which means he doesn't get as much publicity as he otherwise might, and gets overshadowed by the Pujolses and the even the Pandas of the NL. But you go ahead and take those guys if you want. I'll take CarGo. Let me know what you think. Follow me on Twitter at
@SBerthiaumeESPN
. Great place to talk baseball. I'll look for your tweet and hit you back.
Steve Berthiaume is a host for "Baseball Tonight."
Baseball Tonight Live
"Baseball Tonight" analysts, ESPN.com writers and SweetSpot Network bloggers chatted and gave their in-game opinions throughout the day's games -- all in Baseball Tonight Live.
Touch 'Em All

Who went deep? Keep track of all the home runs hit each day on "Baseball Tonight" and the Baseball Tonight Clubhouse page. For more, check out the Home Run Tracker page.
| NAME | HR | OPP | SITUATION | Pitcher |
| --- | --- | --- | --- | --- |
| Joey Votto, CIN | 30 | SF | Top 1: 1-2, 1 Out. 1 on. | Bumgarner |
| Joey Votto, CIN | 31 | SF | Top 4: 2-1, 2 Outs. None on. | Ramirez |
| Jayson Werth, PHI | 17 | HOU | Bot 5: 1-0, 0 Outs. None on. | Happ |
| Josh Hamilton, TEX | 30 | MIN | Bot 1: 3-2, 1 Out. 1 on. | Duensing |
| Vernon Wells, TOR | 23 | NYY | Bot 3: 0-2, 1 Out. 1 on. | Hughes |
BASEBALL TONIGHT ON THE AIR
THURSDAY
12:30 p.m. ET on ESPN
Host: Steve Berthiaume
Analysts: Eduardo Perez
WEB GEMS LEADERBOARD

This season, "Baseball Tonight" will be tracking Web Gems. Points will be calculated by awarding five points for the night's top defensive play, four points for second, three for third, two for fourth and one for fifth. Scoring will be based on fan voting of the previous night's gems (from the last "Baseball Tonight" each night).
WEDNESDAY'S BEST AND WORST
BEST
Joey Votto, 1B, Reds

Votto
Votto helped the Reds erase a nine-run deficit to pull off a wild 12-11 win against the Giants. Votto went 4-for-7 with a pair of homers and seven -- yes, seven -- RBIs and raised his batting average to .326
---
WORST
Jeff Niemann, RHP, Rays

Niemann
Niemann had a rough outing against the Angels. How rough? Well, he gave up eight hits and 10 runs … in 3 1/3 innings of a 12-3 loss in Anaheim. Over his previous three starts, spanning 18 innings, he gave up only nine runs.
THURSDAY'S BEST MATCHUPS
Cardinals at Nationals, 7:05 p.m. ET


Chris Carpenter ranks in the top 10 in the National League in wins (fourth with 14), winning percentage (second at .778), innings pitched (fourth at 184 1/3), ERA (ninth at 2.88) and WHIP (10th at 1.15). He is 5-1 over his past eight starts and permitted one run in beating the Nationals earlier this season.
---
Twins at Rangers, 8:05 p.m. ET


Cliff Lee enters this one struggling a bit lately. The lefty is 0-2 over his past three starts, giving up 18 runs in 19 2/3 innings to raise his ERA to 3.09. It marks the first time his ERA has risen above 3.00 since May 28. Francisco Liriano, meanwhile, hasn't lost since July 9, going 5-0 in seven starts.
---
Orioles at White Sox, 8:10 p.m. ET


The Orioles continue to try to make the White Sox's pursuit of the Twins in the AL Central a little harder. Baltimore took three of four from Chicago at the beginning of the month and, after losing the series opener Tuesday night, beat the White Sox on Wednesday. Edwin Jackson will try to continue his impressive streak since joining the White Sox; he's 1-0 with a 1.35 ERA in three starts.
The rest of Thursday's schedule »