Young arms and Tim Tebow hurting Padres
It's Tim Tebow's fault. Well, hold on … it's hard to blame Tebow himself. After all, the Denver Broncos' quarterback's now-infamous Friar Tuck haircut was hardly a personal style choice. It was instead part of the familiar NFL rookie hazing ritual used by his new Broncos teammates, who said they were trying to make Tebow look like the Statue of Liberty. Instead, Tebow was a brown robe, rope belt and baseball bat away from looking like that old swingin' Padre team logo from back in the day. Now, the San Diego Padres, who had won 13 of 16 before this 10-game losing streak, are dropping like a stone in the NL West. It's
The Curse of Tebow's Haircut
.
[+] Enlarge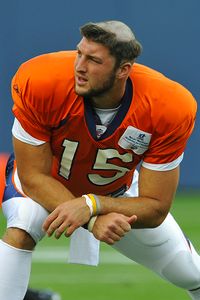 Ron Chenoy/US PresswireTim Tebow's haircut is causing the Padres' slide? Well, you never know.
By coincidence (maybe), it's Denver's baseball team that completed a sweep of the Padres at Petco Park on Sunday. The Colorado Rockies' 4-2 win was San Diego's 10th straight loss. Ten in a row is the Padres' longest losing streak since it's franchise-record 13-game skid in May of 1994. This is in fact only the second time in baseball history a first-place team has lost 10 in a row; the 1932 Pirates dropped 10 straight from July 30-Aug. 9 while leading the National League. The '32 Bucs wound up 86-68 and finished second in the NL, four games behind the Cubs. Now, the Padres are staring second place (or worse) in the NL West square in the face. So, what happened? All season long, San Diego has been winning with its starting pitching. The rotation, however, may be running on fumes.
Mat Latos
has been brilliant as the Padres' ace: 13-5, 2.25 ERA with 160 strikeouts against only 109 hits allowed. Here's the rub: Latos will make his 26th start on Monday, when the Padres open a three-game series against the Los Angeles Dodgers. Latos doesn't turn 23 years old until December. The general baseball consensus is that young pitchers should not increase their innings-pitched totals by more than 30 per season, or risk serious fatigue or injury. Latos' career-high for innings pitched in one season, majors and minor leagues combined, is his 123 from last year. He'll go into Monday night's start having pitched 155⅔ innings this season; meaning with a month still left in the season, Latos is already past his 30 innings increase limit. This issue is hardly unique to Latos.
Wade LeBlanc
had some problems in August; going 3-3 in six starts with a 6.47 ERA. Opponents hit .285 against LeBlanc last month. Padres manager Bud Black admitted LeBlanc, who just turned 26 years old, needs a break. Last season, LeBlanc worked a career-high 167⅔ innings. Right now, including two starts at Triple-A Portland, LeBlanc has thrown 153 innings this season and will have his start skipped for the upcoming Dodgers series.
Clayton Richard
, just days away from his 27th birthday, pitched six innings in his start against the Rockies on Sunday. That brought Richard's innings total this season to 173⅓, just two innings shy of his career high total set in 2008. It's a long season, and for San Diego's rotation that may just mean one month too long. The Padres haven't really hit all year, but now that the rotation needs to be picked up by some offense, it's becoming an issue. During this 10-game losing streak, The Friars have been outscored 55-23. Opponents have hit .259 against San Diego during the nosedive, while Padres' bats have checked in at an anemic .216. The hitting in the clutch has been an issue, too. Over the past 10 games, the Padres have batted .182 with runners in scoring position compared to their opponents' .353 mark. That's .182 vs. .353 with runners in scoring position. San Diego's NL West lead, once 6½ games over the Giants back on Aug. 25, is down to just ONE game. That's a 5½-game swing in nine games. The schedule ahead isn't easy, but it does give the Padres a chance to beat the teams closest to them. The three-game sweep by the Rockies last weekend was just the beginning of a 10-game homestand at Petco Park. This week is critical: it's three against the Dodgers, followed by four against the Giants. Then it's 10 straight on the road -- at Colorado, Los Angeles and St. Louis. After closing their home schedule with the Cincinnati Reds and Chicago Cubs, the Padres finish with three games agaisnt the Giants at San Francisco on the regular-season's final weekend. That's seven more games with the Giants, six more against the Dodgers and three more against the Rockies. The Giants, who are the closest team to the Padres in the division, only one game behind, are just 2-9 against San Diego this season. Figure out a way to keep that trend going and the Padres can still save this thing. History says, however, it may already be too late. Only two teams in major league history have ever made the postseason in a year that included a losing streak of at least 10 games. The last team to do it was the 1982 Atlanta Braves, who survived only to get swept by the St. Louis Cardinals in the NLCS. Convinced the Padres need a miracle? The only other team to make the playoffs despite losing at least 10 straight was the '51 Giants, who got their Miracle of Coogan's Bluff with Bobby Thompson's "Shot Heard 'Round the World" to get to the World Series. We'll see if it takes another miracle to reverse
The Curse of Tebow's Haircut
. You're always welcome to send me a tweet. Follow me on Twitter. I'm
@SBerthiaumeESPN
. I'm tweeting over the course of the day on everything baseball from our staff here at "Baseball Tonight."
Steve Berthiaume is a host for "Baseball Tonight."
Baseball Tonight Live
"Baseball Tonight" analysts, ESPN.com writers and SweetSpot Network bloggers chatted and gave their in-game opinions throughout the day's games -- all in Baseball Tonight Live.
Touch 'Em All

Who went deep? Keep track of all the home runs hit each day on "Baseball Tonight" and the Baseball Tonight Clubhouse page. For more, check out the Home Run Tracker page.
| NAME | HR | OPP | SITUATION | Pitcher |
| --- | --- | --- | --- | --- |
| Matt Holliday, STL | 25 | CIN | Bot 6: 1-2, 2 Outs. 2 on. | Bailey |
| Victor Martinez, BOS | 14 | CHW | Bot 7: 3-1, 2 Outs. 1 on. | Buehrle |
| Prince Fielder, MIL | 30 | PHI | Top 1: 0-0, 1 Out. 2 on. | Kendrick |
| Adam Dunn, WAS | 34 | PIT | Top 4: 1-0, 0 Outs. None on. | Morton |
| Hanley Ramirez, FLA | 20 | ATL | Bot 3: 0-0, 0 Outs. 1 on. | Minor |
BASEBALL TONIGHT ON THE AIR
MONDAY
12 a.m. ET on ESPN2
Host: Karl Ravech
Analysts: Buster Olney, John Kruk
WEB GEMS LEADERBOARD

This season, "Baseball Tonight" will be tracking Web Gems. Points will be calculated by awarding five points for the night's top defensive play, four points for second, three for third, two for fourth and one for fifth. Scoring will be based on fan voting of the previous night's gems (from the last "Baseball Tonight" each night).
HUNT FOR OCTOBER
NATIONAL LEAGUE WEST
| Team | W-L | GB | POFF |
| --- | --- | --- | --- |
| San Diego | 76-56 | -- | 82.9 pct. |
| San Francisco | 74-60 | 3.0 | 37.6 pct. |
| Colorado | 69-63 | 7.0 | 3.2 pct. |
SUNDAY'S BEST AND WORST
BEST
Felix Hernandez, RHP, Mariners

Hernandez
Another start to bolster his case for AL Cy Young. Hernandez tossed eight shutout innings in the Mariners' 3-0 win over the Indians. He struck out nine to raise his league-leading total to 209 and scattered four hits to improve to 11-10 and lower his ERA to 2.30.
---
WORST
James Russell, LHP, Cubs

Russell
Cubs pitchers gave up 18 runs and 21 hits against the Mets. No, it wasn't a good day to be a Cubs pitcher. The worst of the six who went to the mound was reliever Russell, who recorded only two outs but had enough time to give up five runs, five hits and a homer.
MONDAY'S BEST MATCHUPS
Reds at Rockies, 3:10 p.m. ET


The Reds still hold a seven-game lead over the Cardinals as they head to Colorado, where Ubaldo Jimenez will be waiting. Jimenez is 0-4 over his past five starts, though he hasn't allowed more than three runs in any of them and still leads the NL with 17 wins.
---
Rays at Red Sox, 7:05 p.m. ET


The Red Sox are 10 back in the AL East and 7½ behind in the wild-card race, but that doesn't mean they can't be factors down the stretch. They get a chance to mess with the Rays, who trail the Yankees by 2½ in the division. Tampa Bay does, however, hold a seven-game lead in the AL wild-card race.
---
Dodgers at Padres, 10:05 p.m. ET


The Padres need a win -- badly. They've lost 10 games in a row and watched their lead in the NL West shrink and shrink. But they've got the pitcher on the mound they want. Mat Latos leads the NL in ERA (2.25) and has allowed fewer than two runs in four of his past five starts. Vicente Padilla returns from the disabled list to make his first start since Aug. 15.
The rest of Monday's schedule »