Phillies need to throw the knockout punch

By John Kruk
ESPN
Archive
If we haven't said it enough already, the Phillies have simply thrived in September, and Monday's win in the series opener against the Braves, which pushed Philadelphia's lead to four games in the NL East, was just the latest example. This is, after all, a huge series. The Phillies, even if they had lost the opener and went on to get swept, would only have fallen into a tie for the division lead. If the Braves get swept, though, they are done in terms of the NL East.
[+] Enlarge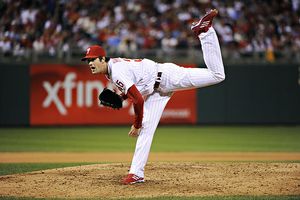 Howard Smith/US PresswireCole Hamels got the Phillies off to a good start in their series opener against the Braves by tossing yet another gem.
You couldn't ask for anything more than
Cole Hamels
,
Roy Halladay
and
Roy Oswalt
pitching in the biggest series of the year. And Hamels got it started well with a win Monday. Phillies fans would love to see
Jimmy Rollins
make a comeback to start the postseason, but the contributions the Phillies are getting from everyone in his absence have almost made up for it. Right now, the Phillies are the best team in baseball. They are attacking opponents on all cylinders with their ability to defend, run the bases and offer up a punch of power throughout their lineup. Their starting staff is strong, and even though the bullpen is probably the weakest part of their game, it's still better than most. I don't see a National League team beating the Phillies in the playoffs. Would this be a different race if
Chipper Jones
were healthy? Maybe. Would it have been a different race if Jimmy Rollins had been healthy all year? What about if
Chase Utley
hadn't missed a couple months or if
Ryan Howard
hadn't missed a few weeks with a sprained ankle? As well as Atlanta has played lately, the Braves still aren't the Phillies. This Phillies-Braves series is far more compelling than the Yankees-Rays fight, because a few losses or wins could drastically change the playoff picture for Philly and Atlanta. With the way the NL West is playing out with the Rockies, Giants and Padres, one of these teams may not get in. The Yankees and Rays already are shoo-ins. One team will win the division and one will win the wild card. The Braves could lose the division by a game and not get in the playoffs at all because of what's going on in the NL West. If Philadelphia is able to sweep, it would damage Atlanta's playoff pursuit. Besides the Giants, who will be very dangerous should they make the playoffs, the Braves are the second team the Phillies won't want to play in the postseason. Atlanta has good starting pitching, offense and an unbelievable bullpen. If I'm Philly, I'm trying to bury the Braves right now and not give them any sign of hope.
John Kruk is an analyst for "Baseball Tonight".
Touch 'Em All

Who went deep? Keep track of all the home runs hit each day on "Baseball Tonight" and the Baseball Tonight Clubhouse page. For more, check out the Home Run Tracker page.
| NAME | HR | OPP | SITUATION | Pitcher |
| --- | --- | --- | --- | --- |
| Curtis Granderson, NYY | 20 | TB | Bot 3: 2-0, 2 Outs. 1 on. | Garza |
| Geoff Blum, HOU | 2 | WAS | Top 5: 2-2, 2 Outs. 2 on. | Hernandez |
| Brad Davis, FLA | 3 | STL | Bot 2: 2-0, 1 Out. Grand Slam. | Carpenter |
| Drew Stubbs, CIN | 20 | MIL | Top 2: 1-1, 1 Out. 1 on. | Capuano |
| Yuniesky Betancourt, KC | 16 | DET | Top 5: 1-1, 0 Outs. 2 on. | Porcello |
Tuesday's Best Matchups
Braves at Phillies, 7:05 p.m. ET


It didn't go well for the Braves in the series opener against Cole Hamels. Who's up next? Well, that would be Roy Halladay, who comes in search of his 20th win of the year. And it hasn't gone well so far this season for Atlanta when facing Halladay. He's 2-0 with an 0.50 ERA, giving up only a solo homer in 18 innings.
---
Rays at Yankees, 7:05 p.m. ET


The Rays try to get back the game they lost by dropping Monday's opener. James Shields pitched well in his most recent outing, which happened to be against the Yankees. Shields struck out eight and allowed a lone run in 6 1/3 innings. He walked away with a no-decision, but the Rays went on to win 4-3.
---
Giants at Cubs, 8:05 p.m. ET


The Giants have a half-game lead in the NL West. And while facing the Cubs doesn't seem all that daunting given that Chicago stands 13 games under .500, going against Carlos Zambrano these days isn't an easy task. He is 6-0 over his past seven starts and hasn't allowed more than two runs in an outing since a relief appearance on June 25.
The rest of Tuesday's schedule »
BASEBALL TONIGHT ON THE AIR
TUESDAY
10 p.m. ET on ESPN2
Host: Karl Ravech
Analysts: J.P. Ricciardi, John Kruk, Bobby Valentine
12 a.m. ET on ESPN
Host: Karl Ravech
Analysts: John Kruk
WEB GEMS LEADERBOARD

This season, "Baseball Tonight" will be tracking Web Gems. Points will be calculated by awarding five points for the night's top defensive play, four points for second, three for third, two for fourth and one for fifth. Scoring will be based on fan voting of the previous night's gems (from the last "Baseball Tonight" each night).
HUNT FOR OCTOBER
NATIONAL LEAGUE EAST
| Team | W-L | GB | POFF |
| --- | --- | --- | --- |
| Philadelphia | 90-61 | -- | 99.9 pct. |
| Altanta | 86-65 | 4.0 | 85.8 pct. |
MONDAY'S BEST AND WORST
BEST
Curtis Granderson, CF, Yankees

Granderson
The Yankees built their lead in the AL East to 1½ games, and Granderson was the one who gave the biggest push in the 8-6 win against the second-place Rays. He homered twice, walked twice, drove home five runs and stole a base.
---
WORST
Jeanmar Gomez, RHP, Indians

Gomez
The Twins inched closer to officially wrapping up the AL Central. The Indians weren't much of a barrier in a 9-3 loss. Gomez was pounded in a second consecutive start. After giving up seven hits and six runs in three innings against the Angels, he was torched by the Twins, who knocked out 10 hits and eight runs in 5 2/3 innings.