AP Photo/David J. Phillip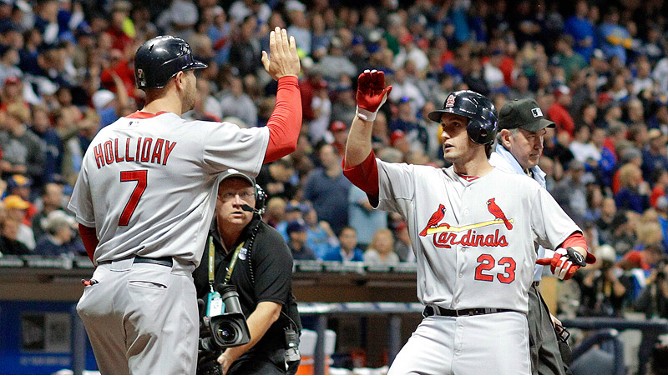 Big And Red All Over
David Freese and company powered the Cardinals' offensive blowout of the Brewers to put themselves in the World Series. Jayson Stark »
StL - Mil
SERIES DETAILS
CARDINALS WIN OVER BREWERS, 4-2
SWEETSPOT BLOG NETWORK

Fungoes
A fan blog devoted to the St. Louis Cardinals

REGULAR SEASON SERIES
Series tied 9-9
| | | |
| --- | --- | --- |
| May 6, 2011 | Brewers 0, Cardinals 6 | Recap |
| May 7, 2011 | Brewers 4, Cardinals 0 | Recap |
| May 8, 2011 | Brewers 1, Cardinals 3 | Recap |
| Jun 10, 2011 | Cardinals 0, Brewers 8 | Recap |
| Jun 11, 2011 | Cardinals 3, Brewers 5 | Recap |
| Jun 12, 2011 | Cardinals 3, Brewers 4 | Recap |
| Aug 1, 2011 | Cardinals 2, Brewers 6 | Recap |
| Aug 2, 2011 | Cardinals 8, Brewers 7 | Recap |
| Aug 3, 2011 | Cardinals 5, Brewers 10 | Recap |
| Aug 9, 2011 | Brewers 5, Cardinals 3 | Recap |
| Aug 10, 2011 | Brewers 5, Cardinals 1 | Recap |
| Aug 11, 2011 | Brewers 2, Cardinals 5 | Recap |
| Aug 30, 2011 | Cardinals 2, Brewers 1 | Recap |
| Aug 31, 2011 | Cardinals 8, Brewers 3 | Recap |
| Sep 1, 2011 | Cardinals 8, Brewers 4 | Recap |
| Sep 5, 2011 | Brewers 4, Cardinals 1 | Recap |
| Sep 6, 2011 | Brewers 2, Cardinals 4 | Recap |
| Sep 7, 2011 | Brewers 0, Cardinals 2 | Recap |
SPORTSNATION
Which team will win the NL Championship Series and advance to the World Series -- the St. Louis Cardinals or the Milwaukee Brewers?
Vote and be heard!
FEATURED COMMENT
"

I would have ... saved Grienke for game 6 at home where he is unbeaten.

" -- packerfan_55
ESPN STATS & INFORMATION
The Cardinals advance to their 18th World Series, tied for the second-most all-time with the Giants and Dodgers. The Cards' 12 runs were the most runs scored by the Cardinals in a series-clinching victory. It was the second postseason series-clinching game in which neither starter went more than two innings (1932 World Series Game 4- Yankees-Cubs).
David Freese homered and had three RBIs. He leads all players with 14 RBIs this postseason. David Freese hit .545 with three HRs and nine RBIs in the NLCS. Only one other player has hit all three of those benchmarks in a postseason series: In 1928, Yankees first baseman Lou Gehrig hit .545 with four HRs and 9 RBIs against the Cardinals in the World Series.
The Cardinals are the fourth team to win the LCS as a wild card by eliminating their own division's champion on their home field; the last was the 2005 Astros, who eliminated the Cardinals in St. Louis to win the NLCS.
Albert Pujols hit his 10th career LCS home run, the second-most all-time. This is the first postseason game in which five HRs were hit in the first two innings. The previous record for most HRs in first two innings was four in Game 5 of the 2009 NLCS between the Phillies and Dodgers. There were six HRs combined by the two teams, one shy of the single-game postseason record.
The Cardinals are the second team to win a postseason best-of-7 series by getting more innings from their bullpen than their starters (other was the 1979 Pirates against the Orioles in the World Series.




SEE RECAP FOR MORE GAME 6 NOTES »



Listen to all games on ESPNRadio.com
ACCUSCORE PROJECTIONS
AccuScore has powered more than 10,000 simulations for every MLB game for ESPN.com, each simulated one play at a time and minimum of 10,000 times. View all projections.
EXPERT PICKS
Crasnick

In 6

Caple

In 6

Bowden

In 7

Schoenfield

In 7

Kahrl

In 7

Karabell

In 5

Stark

In 7

Kurkjian

In 7