Jerry Lai/US Presswire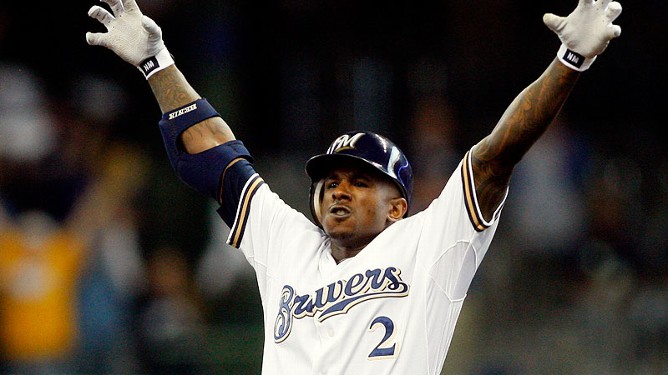 No Delaying Destiny
It took an extra frame, but Nyjer Morgan plated the winning run in the 10th to propel the Brewers to their first LCS since '82. Gene Wojciechowski »
Ari - Mil
SERIES DETAILS
BREWERS WIN OVER DIAMONDBACKS, 3-2
SWEETSPOT BLOG NETWORK


REGULAR SEASON SERIES
Diamondbacks won 4-3
| | | |
| --- | --- | --- |
| Jul 4, 2011 | Diamondbacks 8, Brewers 6 | Recap |
| Jul 5, 2011 | Diamondbacks 7, Brewers 3 | Recap |
| Jul 6, 2011 | Diamondbacks 1, Brewers 3 | Recap |
| Jul 18, 2011 | Brewers 0, Diamondbacks 3 | Recap |
| Jul 19, 2011 | Brewers 11, Diamondbacks 3 | Recap |
| Jul 20, 2011 | Brewers 5, Diamondbacks 2 | Recap |
| Jul 21, 2011 | Brewers 0, Diamondbacks 4 | Recap |
SPORTSNATION
With a winner-take-all Game 5, the Brewers and the Diamondbacks have an equal shot at reaching the NLCS. But which team has the upper hand?
Vote and be heard!
ACCUSCORE PROJECTIONS
AccuScore has powered more than 10,000 simulations for every MLB game for ESPN.com, each simulated one play at a time and minimum of 10,000 times. View all projections.
FEATURED COMMENT
"

Wow, 3 LDS Game 5's! And people say baseball's boring

" -- Ellande31
EXPERT PICKS
Bowden

In 4

Karabell

In 4

Caple

In 4

Bryant

In 5

Crasnick

In 4

Schoenfield

In 5

Stark

In 4

Kahrl

In 3



Listen to all games on ESPNRadio.com