Can everyone stop bitching and moaning for just a minute? I'm talking to you, …
… Atlanta fans. Yes, that was a horrible call by umpire Sam Holbrook on the infield fly in the wild-card game. But be honest. Even had he not made that infield fly/left-field fly/fair catch call, your team would have just stranded those runners on the bases anyway. Or hit into an inning-ending double play. Either way, the Braves wouldn't have scored enough runs to make up for all the mistakes -- three errors, a hit batter, four unearned runs, 12 runners left on base -- they made the rest of the game.
So don't blame the umpires. You should know by now your team never comes through in the postseason.
… Rangers and Braves fans. Is it fair to have a season decided by one game? No, it isn't. But as Ron Washington would say, that's the way baseball go now that there is an absolutely unnecessary second wild card in each league. Compared to a 162-game season, a three- or five- or even seven-game series wouldn't determine which team truly is best, either. But you have to end the season somehow.
Sure, it's a lot more fun to see your postseason stretch out over a week rather than a couple of hours, but this isn't Little League. No matter how you play it out, all but one team eventually is going to go home a loser. So instead of extending the wild-card series, let's just give out snow cones after losses to make everyone feel better about themselves.
You want unfair? Adding wild-card teams to the postseason is unfair to the first-place teams with the best record. So just accept the one-game playoff for what it is: a way for one second-place team to advance to a playoff series it wouldn't even have been eligible for just a while back.
… Josh Reddick and the Athletics. What is the big deal about Al Alburquerque kissing the baseball? The Tigers' reliever wasn't trying to show up your team. He wasn't showing you disrespect. He simply got a crucial comebacker in the ninth and was so happy about it he reacted with an uncensored display of joy and relief. Granted, he probably should have at least bought the baseball dinner beforehand. Or, as Detroit manager Jim Leyland said, "I'm from the old school. I probably would have hugged it first."
But what you're really upset about isn't Alburquerque's gesture. It's that you lost a very tough game you could have (and probably should have) won, dropping you to 0-2 in the division series. Don't take your frustration out on Alburquerque. Lighten up and listen to Oakland teammate Jonny Gomes.
"Listen here," Gomes said Monday. "Our heart and our soul of the organization, Kurt Suzuki, got traded away. One of our ace pitchers, Brandon McCarthy, was in the hospital and had brain surgery. Our other guy, Bartolo Colon, tested positive for steroids. Our starting third baseman blew his knee out the first drill of spring training. So kissing a ball isn't going to bum us out at all."
Evidently, it did not bum you out at all, given the way you bounced back to win Game 3 in wonderful fashion. Now, keep up the marvelous fielding, maintain the timely hitting and don't get annoyed by petty actions. And you won't have to kiss your baseball goodbye.
… First-place teams. Yes, making the team with the better record play the first two games of the division series on the road didn't seem like a home-field advantage. But both the players' union and the owners signed off on the 2-3 format before the season began. If you didn't like it, you should have said so then, not now.
Besides, a champion finds a way to win on the road (as every team but Oakland did at least once in the first two games of each series) or recovers later to win at home (as the Athletics did when they swept the Rangers in the final series of the regular season). Plus, the format is going to change back to 2-2-1 next October, anyway.
So when your October run ends this year, just plan on earning real home-field advantage next season.
And cross your fingers the umpires don't screw you over.
CSI: Box Score
Each week, I provide a fragment from an old box score and challenge you to determine what game it is from and why it's significant. I give this one a difficulty rating of 5. Answer below:
Baseball Card of the Week
Adam Greenberg's three-pitch strikeout earned him this Topps baseball card, which will be included in the 2013 set. At least his stance looks good.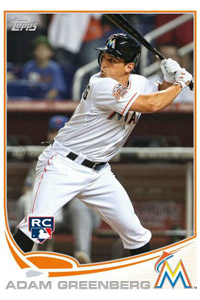 Box Score Line of the Week
Cincinnati's Johnny Cueto lasted just eight pitches before leaving with an injury on Saturday, the shortest start in postseason history (0.1 IP, 0 H, 0 R, 0 ER, 0 BB, 1 K). San Francisco reliever Jose Mijares threw more than twice as many pitches (17) Sunday than Cueto did a day earlier, but he didn't retire a batter (0 IP, 2 H, 3 R , 3 ER, 1 BB, 0 K). Less than two weeks after throwing a no-hitter, Homer Bailey allowed only one hit Tuesday (7 IP, 1 H, 1 R, 1 ER, 1 BB, 10 K), while Brett Anderson pitched six scoreless innings on 19 days' rest (6 IP, 2 H, 0 R, 0 ER, 2 BB, 6 K).
But this week's award goes to Washington starter Gio Gonzalez, who walked seven batters in five innings on Sunday -- and didn't lose. His wild line:
5 IP, 1 H, 2 R, 2 ER, 7 BB, 5 K, 1 WP
As Gonzalez told colleague Jayson Stark of his words to Nationals manager Davey Johnson after a four-walk, two-run, one-wild-pitch and no-hit second inning: "As soon as I got back to the dugout … I was like, 'Is your heart still beating? Did your leg go numb?'"
Yeah, Well, That's Like, That's Just Your Opinion, Man
What They Really Need To Do Is Shrink The Strike Zone. The Mariners are addressing their awful offense by moving in the left-center fence, though this will likely only mean they lose games 6-4 next season rather than 2-1. The real problem for Seattle is a lineup that strikes out way too often -- and that isn't going to improve just because the fences are closer. The Mariners also fired hitting coach Chris Chambliss, which means the victim they hire to replace him will be Seattle's 11th batting coach in the past decade. (The previous 10: Gerald Perry, Lamar Johnson, Paul Molitor, Don Baylor, Jeff Pentland, Lee Elia, Jose Castro, Alan Cockrell, Alonzo Powell, Chambliss.) A friend wonders if the Mariners' next hire will come from this list of candidates: The Moose, George Costanza or Ted Williams' frozen head.
Mount Boras Erupts, Spewing Overheated Gas And B.S. Last week, Scott Boras complained that the Cubs weren't spending enough now to improve the team -- yes, I know, a shocking position for an agent to take -- telling the Chicago Sun-Times that owner Tom Ricketts is "sitting on a Mount Vesuvius of money." That might not be the best analogy, given that Mount Vesuvius infamously buried the city of Pompeii when it erupted in 79 A.D. It does, however, bring up a nice trivia question. Which has happened more recently: the Cubs playing in the World Series or Mount Vesuvius erupting? The answer is the Cubs reaching the World Series, though just barely. The Cubs played in the 1945 series while Vesuvius last erupted the year before.
.
"I Know Where Jimmy Hoffa Is. Details Later."The tweet of the year? Jose Canseco's "Yes time travel is possible. Details later." Of course, with Jose, you never know whether he was joking or serious.
CSI: Box Score Answer
Did you spot the big clue in the box score fragment? The name Galehouse, as in Denny Galehouse, should have tipped you off. His name was included in the DNA of Boston fans born between 1919 and 2003, because Galehouse started and lost the Red Sox's one-game playoff with Cleveland to break the tie for the 1948 American League pennant.
That was the first one-game playoff in baseball history, and Boston fans reacted in proper fashion. Rather than complain uselessly about a one-game playoff deciding a season, they simply spent the next several decades bitching and moaning about manager Joe McCarthy starting an 8-7 pitcher with a high ERA in such a crucial game.